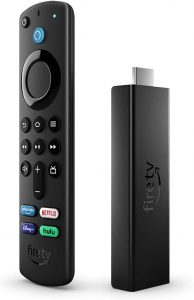 IPTV is a system that allows you to watch television programs through the Internet. It is a new way to deliver television content and has many advantages over traditional delivery methods, such as cable or satellite. IPTV provides a more flexible and convenient way to watch TV, as it does not require a physical connection to a television network. You can watch IPTV on any internet-connected device, including your Firestick, Apple TV, Android box, Mag box, computer, laptop, tablet, or smartphone.
Iptv is also more affordable than traditional television, as it does not require a monthly subscription fee. There are many different providers of IPTV services, and you can choose the one that best suits your needs.
Fire TV Stick (Firestick)
A Firestick is a small device that plugs into the HDMI port on your TV. It turns your TV into a smart TV, giving you access to streaming services like IPTV, Netflix, Hulu, and Amazon Prime Video. You can also use it to play games, listen to music, and more. The firestick comes with remote control, so you can easily navigate your way around the interface.
Questions? You're covered.