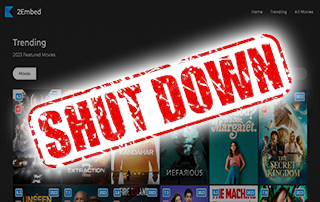 2Embed has been shut down by ACE – Yeah IPTV
The popular one 2Embed The website has been shut down by ACE.
The Alliance for Creativity and Entertainment (ACE) is a global anti-piracy organization responsible for shutting down hundreds of pirate streaming sites.
When it comes to IPTV ServicesStreaming apps and streaming websites have thousands of verified and unverified options to choose from.
We have no idea which streaming apps/sites have the appropriate license for the content they broadcast and we rely on reports like this from ACE to better inform our visitors about the legality of streaming sites.
2Embed shut down
In a massive step in the fight against piracy, the Alliance for Creativity and Entertainment (ACE) has successfully shut down the operations of 2Embed, a well-known pirate content provider.
As a piracy-as-a-service provider, 2Embed has supplied illegal copies of movies and TV shows to a variety of streaming platforms, making it a major player in the piracy space.
Not so long ago, torrent sites and direct download portals served as the primary marketplaces for pirated content.
Today, however, the spotlight is coming on pirate streaming platforms that offer an on-demand viewing experience similar to legitimate services, thereby skyrocketing their popularity.
As a result, a new generation of entrepreneurs has emerged who are focused on piracy and offering 'piracy as a service'. This includes platforms that provide access to massive libraries of stolen content and allow streaming platforms to embed movies and TV shows on their websites.
The result is that operators of such websites no longer have to rely on the procurement and storage of content, but instead connect to an application programming interface (API) and thus automate the process.
2Embed was one such pirate library that changed the dynamics of the piracy game. With access to a library of pirated streaming links for 300,000 movies and TV shows, they could be easily embedded into any website using an IMDb ID as a reference.
LEGAL DISCLAIMER: Yeah IPTV does not own or operate any IPTV service or streaming application. We do not host or distribute applications. We do not verify that IPTV services or app developers have the correct license. The end user is solely responsible for the media accessed through any device, app, add-on or service mentioned on our website.

For a 100% legal IPTV service, IPTV recommends WIRE vidgo.
This unprecedented operation has understandably made the company a major adversary to the film industry.
Despite allegations by the Motion Picture Association (MPA), which led to 2Embed being reported to the US Trade Representative on multiple occasions, the piracy platform managed to continue operating for a long time. However, Hollywood's concerns did not go unnoticed.
As a result, the US Trade Representative and the European Commission identified 2Embed as a notorious source of piracy, prompting the Vietnamese authorities to intervene due to the platform's apparent connection to the country.
This sequence of events led to ACE's significant victory after negotiations with the operator of 2Embed, based in Hanoi, Vietnam.
2Embed Shutdown Affects Streaming Sites
According to ACE boss Jan van Voorn, the closure of 2Embed led to a domino effect. Numerous streaming platforms that relied solely on 2Embed for their content were hit hard, and many are still struggling to recover.
According to van Voorn, of the 457 websites identified, 302 are currently unavailable or contain no content, and these websites together have seen a staggering 2.756 billion visits over the past two years.
Popular streaming sites that have been affected include Fmovies, Zoro, TV Film, and several others.
YOU ARE BEING FOLLOWED…
Your online activities are tracked by your internet service provider, app/add-on developers and the government using your identifying IP address.
Stream anonymously with Surfshark VPN.
Surfshark encrypts your connection to the internet and masks your IP address and location so you remain anonymous.
Your current identifying IP address: 68.65.122.96
SAVE 82% + GET 2 MONTHS FREE
Surfshark backs its service with a 30-day money-back guarantee.
With Surfshark, you can use your account on an unlimited number of internet-connected devices
At the same time, ACE and MPA are strengthening their ties with the Vietnamese authorities to further address the issue.
At a recent meeting with officials from Vietnam's Ministry of Public Security, the Deputy Minister called on ACE and MPA to share information to curb online piracy and copyright infringement.
In the rapidly evolving world of piracy, this event serves as a cautionary tale for pirate service providers and underscores that the fight against piracy is not waning. Rather, it is moving forward with greater determination and international cooperation.
Overall, we're excited to see what pirate streaming sites are next on ACE's target list. We will always update our visitors with the latest streaming news as soon as the information is released.
This isn't the first time that big-name streaming sites have been shut down by ACE and other anti-piracy agencies.
For more information on this story, see TorrentFreak's story.
Legal streaming options
It is impossible for IPTV Wire to determine if an unverified IPTV service, app, website or add-on has the correct license.
If a streaming site is determined to be illegal, we will notify our users immediately and update reports on our site like this to reflect that information.
Finally the The end user is responsible for all content Access is via free streaming sites, apps, and paid services.
For more information on the legality of IPTV and everything you need to know before streaming, check out our in-depth guide below.
Is IPTV legal? Read this
For 100% verified and legit IPTV providers, see the options below:
fuboTV
fuboTV is one of the most popular paid legal IPTV providers among cable cutters around the world, especially among sports fanatics.
The best part is that fuboTV offers a 7-day free trial for new users! This means that you can easily test the service.
This IPTV service offers three different plans, with the most popular one costing $69.99/month for 115+ channels and DVR.
fuboTV review
fuboTV – Google Play Store
Philo
Philo is a solid option for those who enjoy entertainment and news channels. This service costs $20.00/month for 60+ channels and unlimited DVR.
Just like fuboTV, Philo also offers a 7-day free trial for new users! This is a must when choosing an IPTV provider.
Philo – Google Play Store
Pluto TV
Pluto TV is another popular free and legal IPTV application used by millions of cable cutters.
This free IPTV provider offers hundreds of live channels as well as thousands of movies and TV shows.
Check out our Pluto TV guide below for more information.
How to install Pluto TV APK
Pluto TV – Google Play Store
Related

The official URL for this IPTV service is https://yeah-iptv.com/