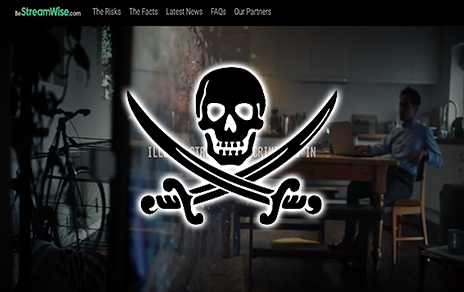 A Look Into This New IPTV Anti-Piracy Campaign – Yeah IPTV
A new IPTV anti-piracy campaign called "BeStreamWise" is claiming that illegal streams let criminals in.
In an age dominated by IPTV services, both legal and illegal, a new awareness campaign has emerged.
Named BeStreamWise, its rallying cry, "Illegal Streams Let Criminals In", is aimed at deterring the use of pirated IPTV services in the UK.
And while its launch may not have been accompanied by the fanfare one might expect, the campaign's unique tactics and heavyweight backers certainly deserve a closer look.
Behind the BeStreamWise Campaign
Heavyweights in the UK's media landscape, including Sky, Premier League, FACT, ITV, CrimeStoppers, and the UK Intellectual Property Office, are leading this new awareness campaign.
But there's an oddity: its silent rollout. Without press releases or significant media engagement, the campaign's launch feels peculiarly quiet for something of its stature.
However, this doesn't mean it hasn't gained traction. A 15-second video from BeStreamWise has already garnered over 484,000 views on YouTube, suggesting their strategy might be more focused on direct online engagement.
The MalStreams Experiment
As part of the campaign, BeStreamWise introduced an experiment that demonstrates how easily individuals can be lured into too-good-to-be-true offers.
Under the alias 'MalStreams', social engineering expert Jenny Radcliffe, took on the role of a salesperson offering free lifetime streaming subscriptions.
The catch? This was all set up in a public place – London's Paddington Station.
The underlying assumption of the campaign was that the public setting, the renowned location, and the absence of an obvious illegal setup would dispel any suspicions.
LEGAL DISCLAIMER: Yeah IPTV does not own or operate any IPTV service or streaming application. We do not host or distribute any applications. We do not verify whether IPTV services or app developers carry the proper licensing. The end-user shall be solely responsible for media accessed through any device, app, addon, or service mentioned on our Website.

For 100% legal IPTV service, Yeah IPTV recommends Vidgo.
And it worked – several individuals handed over their personal details, only to be met with a hacker simulation and a stark warning about the dangers of illegal streaming.
The Threats Highlighted by BeStreamWise
The BeStreamWise portal focuses on four main threats related to illegal streaming:
Viruses and Malware: By accessing illegal streams, there's a risk of malicious software that compromises personal data.
ID Theft, Scams, Fraud: Engaging with unauthorized sources can lead to financial and identity risks.
Inappropriate Content: Illicit sources can expose younger users to inappropriate content due to the lack of parental controls.
Funding Criminality: Supporting illegal streams can inadvertently support other illicit activities and criminal networks.
Who's Driving BeStreamWise?
Several big names are aligned with BeStreamWise, including Sky, Premier League, ITV, and the British Association for Screen Entertainment (BASE).
BASE in particular has connections with major players like Universal, Disney, Warner Brothers, and more.
But it's Sky that stands out prominently, with the BeStreamWise website even linking to Sky's terms and conditions.
This involvement is further solidified as Sky UK Limited is listed as the trademark applicant for BeStreamWise.
BeStreamWise Critiques and Controversies
Despite its noble aim, BeStreamWise faces criticism on certain fronts. The campaign cites various studies about the risks of illegal streaming.
However, these studies aren't publicly available, leading to skepticism. Without open access to the methodology and full findings of these studies, questions arise about the veracity of the claims.
Additionally, in a twist of irony, BeStreamWise has found itself on a DNS blocklist following allegations of spreading misinformation, suggesting the site might be "dirtying" the internet.
YOU'RE BEING TRACKED…
Your online activity is tracked by your Internet Service Provider, app/addon devs, and government through your identifying IP address.
Stream anonymously by using Surfshark VPN.
Surfshark will encrypt your connection to the Internet and mask your IP address and location so you will become anonymous.
Your Current Identifying IP Address: 68.65.122.96
SAVE 82% + GET 2 FREE MONTHS
Surfshark backs their service with a 30-day money back guarantee.
Surfshark allows you to use your account on unlimited Internet-connected devices
Conclusion
While the threats of illegal streaming are real, campaigns like BeStreamWise must ensure transparency and accuracy in their messaging.
As consumers, it's crucial to critically evaluate campaigns and the data they present.
For more information on this story, refer to the video below and the report from TorrentFreak.
Legal IPTV Streaming Options
IPTV Wire can't determine whether unverified IPTV services, apps, websites, or add-ons hold the proper licensing.
If and when an IPTV service is deemed illegal, we notify our users immediately and update reports on our website like this one to reflect that information.
In conclusion, the end-user is responsible for all content accessed through free IPTV apps and paid services.
See our detailed guide below for more information on the legality of IPTV and everything you need to know before streaming.
Is IPTV Legal? Read This
For 100% verified and legal IPTV providers, see the options listed below:
fuboTV
fuboTV is one of the most popular paid legal IPTV providers among cord-cutters around the globe, especially sports fanatics.
The best part is fuboTV offers a 7-Day Free Trial for new users! This means you can try the service hassle-free.
This IPTV service offers three different plans with the most popular for $69.99/month for over 115 channels and DVR.
fuboTV Review
fuboTV – Google Play Store
Philo
Philo is a solid option for those who enjoy entertainment and news channels. This service costs $20.00/month for over 60 channels and unlimited DVR.
Just like fuboTV, Philo also offers a 7-Day Free Trial for new users! This is a must-have feature when choosing any IPTV provider.
Philo – Google Play Store
Pluto TV
Pluto TV is another popular free and legal IPTV application used by millions of cord-cutters.
This free IPTV provider offers hundreds of live channels along with thousands of movies and TV shows.
Check out our Pluto TV guide below for more information.
How to Install Pluto TV APK
Pluto TV – Google Play Store
Related

The official URL for this IPTV service is https://yeah-iptv.com/