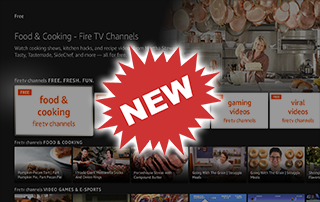 Amazon launches new service "Fire TV Channels". – Yeah IPTV
Amazon has announced the upcoming launch of a new service 400+ free live channels.
This new service is called "Fire TV Channels', a free live TV service that works similarly to Pluto TV and The Roku Channel.
Amazon expects this service to launch in summer 2023 and will offer 400 free live channels. This new feature will continue to work Amazon Firesticks and other Fire TV devices.
We expect this to be a great additional option for cord cutters to pair with their existing streaming apps and Live TV Services.
Most cable cutters watch live TV on their Firestick and Fire TV devices due to their low prices and ease of jailbreaking.
Amazon's official press release explains more about the new Fire TV Channels offering:
"Fire TV customers in the US get even more free live, on-demand and short-form content with the launch of Fire TV Channels – no signups or fees required.

Fire TV Channels, launching this week and expanding the existing Fire TV FAST experience, offer customers instant access to a unique selection of fresh content from over 400 providers, curated by popular categories including local and national news, sports, music videos , Entertainment and Food & Cooking, Video Games and More."
These 400 live channels feature content from NHL, Xbox and TMZ, plus an all-new category of travel.
The Travel category features travel guides and other resources on popular travel destinations. Tastemade Travel, Rick Steves' Europe, Travel Hacks (Pack Hacker) and Condé Nast Traveler will provide all content.
This new Fire TV Channels feature will bring together free premium content spanning diverse customer interests from a growing list of well-known names such as ABC News, CBS Sports HQ, FOX Sports, Major League Baseball, NBC News Now, Martha Stewart and America's Test Kitchen.
Whether you're reading the latest news and sports stories or planning a dream vacation, Fire TV Channels makes it easy for you. Playlists of hot content like NHL playoff highlights are on the Free tab and on the Fire TV home screen for one-click instant playback, making it a breeze to find something fun to watch.
Clients can dive deep into their interests with dedicated category pages for dozens of live and on-demand video playlists that are continuously updated throughout the day.
LEGAL DISCLAIMER: Yeah IPTV does not own or operate any IPTV services or streaming applications. We do not host or distribute applications. We do not verify that IPTV services or app developers have the correct license. The end user is solely responsible for media accessed through any device, app, add-on or service mentioned on our website.

For a 100% legal IPTV service, IPTV recommends WIRE vidgo.
This summer, Fire TV will merge all of these quick categories into a single, easy-to-navigate service with the launch of the Fire TV Channels destination.
This always-on experience offers customers even more ways to discover and enjoy this rich collection of content in an easy-to-browse, tailored watch experience.
For more popular guides on Live TV and Amazon Fire TV devices, we recommend the links below.
For more information on Fire TV Channels and additional details, watch Amazon's video below.
Related

The official URL for this IPTV service is https://yeah-iptv.com/