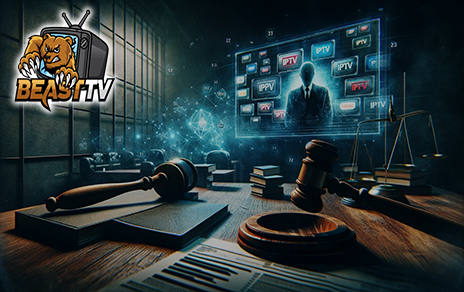 Beast TV IPTV Reseller Faces Major Lawsuit from Media Giants – Yeah IPTV
An IPTV reseller of the once-popular Beast TV service is now facing a significant lawsuit.
The shutdown of the Beast TV service in 2020 and the subsequent legal battles that followed offer a fascinating insight into the complexities of intellectual property law and the ongoing fight against digital piracy.
This saga began when several Hollywood studios, Netflix, Amazon, and Bell Media filed a lawsuit in Canada, leading to the service's closure.
Yet, even years after its shutdown, the legal repercussions and related actions continue to unravel.
The Rise and Fall of Beast TV
Beast TV, a well-known IPTV service, gained significant traction in the illicit sector, making it a target for rights holders' attorneys.
Its downfall began in the latter part of 2020 amidst rumors and counter-rumors about its legal troubles.
It was soon evident that a coalition of entertainment giants, including Warner Bros., Amazon, Bell Media, Columbia, Disney, Netflix, Paramount, Sony Pictures, and Universal City Studios, had set their sights on dismantling Beast TV.
The concerted action against Beast TV culminated in an ex parte injunction, forcing its operators, Tyler White and Colin Wright, to cease operations and comply with various demands.
However, both operators were found guilty of contempt for their failure to comply fully.
Legal Drama and Unfolding Events
The ongoing lawsuit is filled with dramatic and sometimes surreal developments. Aspects of Beast TV were allegedly migrated elsewhere, leading to the destruction or withholding of evidence.
This dissipation of funds (at least CAD$344,000) has been a source of frustration for the plaintiffs. In a notable turn of events, White was sentenced to 60 days in jail in June 2023, to be served intermittently to accommodate his job.
Persistent Rumors and New Lawsuits
Despite the legal actions, rumors persisted that Beast TV was still operational.
LEGAL DISCLAIMER: Yeah IPTV does not own or operate any IPTV service or streaming application. We do not host or distribute any applications. We do not verify whether IPTV services or app developers carry the proper licensing. The end-user shall be solely responsible for media accessed through any device, app, addon, or service mentioned on our Website.

For 100% legal IPTV service, Yeah IPTV recommends Vidgo.
This was seemingly confirmed by an announcement on a related website, which claimed that Beast TV was still alive, even after its supposed shutdown.
This site, along with another, continued to offer Beast TV-branded IPTV subscriptions, drawing the attention of DISH Network's piracy investigators.
DISH's Legal Action
In a new twist, a lawsuit filed in the United States targets alleged operators of websites that continued selling Beast TV-branded subscriptions.
DISH Network, after undercover purchases by their investigators, identified John Gwaka Magembe and Joyce Berry as the individuals behind these operations.
The lawsuit alleges violations of the DMCA and the Federal Communications Act, with potential damages reaching into the millions or even half a billion dollars.
The Complexity of Digital Piracy Litigation
This case exemplifies the challenges faced in tackling digital piracy. The legal proceedings are intricate, involving multiple parties and jurisdictions.
The Canadian lawsuit against Beast TV's original operators is still ongoing, and its conclusion remains uncertain.
Meanwhile, the new lawsuit in the United States introduces additional layers of complexity.
YOU'RE BEING TRACKED…
Your online activity is tracked by your Internet Service Provider, app/addon devs, and government through your identifying IP address.
Stream anonymously by using Surfshark VPN.
Surfshark will encrypt your connection to the Internet and mask your IP address and location so you will become anonymous.
Your Current Identifying IP Address: 68.65.122.96
SAVE 82% + GET 2 FREE MONTHS
Surfshark backs their service with a 30-day money back guarantee.
Surfshark allows you to use your account on unlimited Internet-connected devices
In summary, the Beast TV saga is a clear example of the ongoing battle between rights holders and digital pirates.
It highlights the legal, financial, and operational challenges in curbing piracy and enforcing intellectual property rights in the digital age.
The outcomes of these lawsuits could have significant implications for future actions against similar pirate IPTV services and their operators.
For more information on this story, refer to the legal complaint (PDF) and the report from TorrentFreak.
Legal Streaming Options
IPTV Wire can't determine whether unverified IPTV services, apps, websites, or add-ons hold the proper licensing.
If and when a streaming website is deemed illegal, we notify our users immediately and update reports like this one to reflect that information.
In conclusion, the end-user is responsible for all content accessed through free streaming sites, apps, and paid services.
See our detailed guide below for more information on the legality of IPTV and everything you need to know before streaming.
For 100% verified and legal IPTV providers, see the options listed below:
fuboTV
fuboTV is one of the most popular paid legal IPTV providers among cord-cutters around the globe, especially sports fanatics.
The best part is fuboTV offers a 7-Day Free Trial for new users! This means you can try the service hassle-free.
This IPTV service offers three different plans with the most popular for $69.99/month for over 115 channels and DVR.
fuboTV Review
fuboTV – Google Play Store
Philo
Philo is a solid option for those who enjoy entertainment and news channels. This service costs $20.00/month for over 60 channels and unlimited DVR.
Just like fuboTV, Philo also offers a 7-Day Free Trial for new users! This is a must-have feature when choosing any IPTV provider.
Philo – Google Play Store
Pluto TV
Pluto TV is another popular free and legal IPTV application used by millions of cord-cutters.
This free IPTV provider offers hundreds of live channels along with thousands of movies and TV shows.
Check out our Pluto TV guide below for more information.
How to Install Pluto TV APK
Pluto TV – Google Play Store
Related

The official URL for this IPTV service is https://yeah-iptv.com/