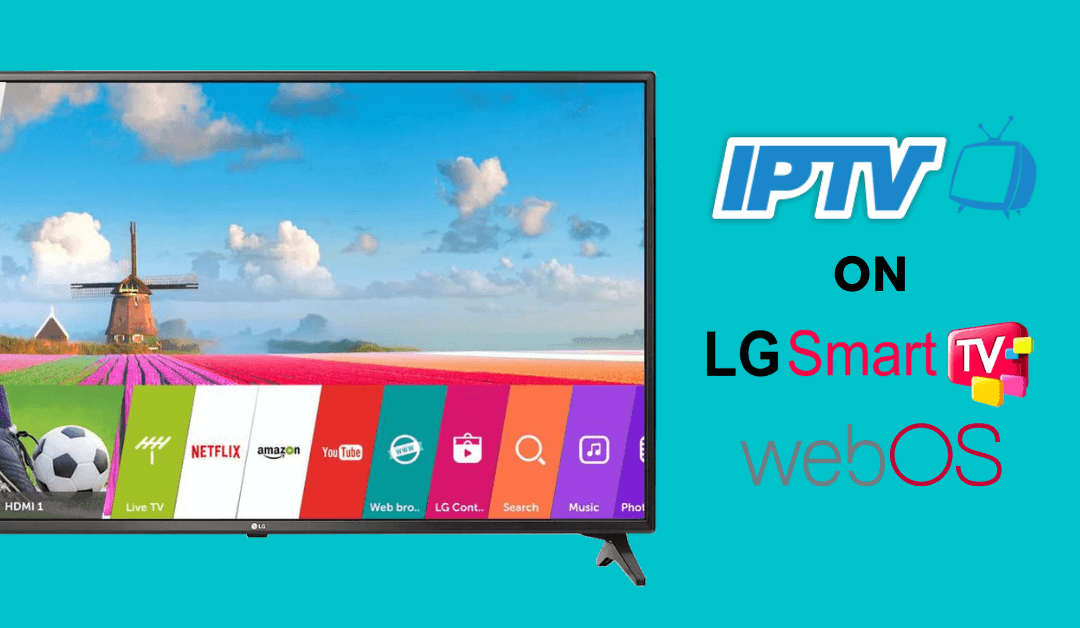 Best IPTV for LG Smart TV | How to stream IPTV on LG TV – Yeah IPTV
IPTV is the modern way to stream TV anywhere, anytime, anywhere in the world. It is a subscription based service like several other streaming services like Disney+, HBO Max, Netflix etc. The only difference is the pricing as IPTV costs a lot less than any other streaming service and offers more content than live TV. IPTV is accessible on all types of devices, including Smart TV. There are tons of Smart TVs on the market. Here in this article, let's see how to install and access IPTV on your LG Smart TV.
Use VPN when streaming IPTV
Before getting an IPTV for LG WebOS Smart TV, make sure you have an active VPN connection. It is important to have a VPN service to avoid being tracked and monitored online. The premium VPN services like NordVPN and ExpressVPN help you stay anonymous without sacrificing speed and security.
How to Install IPTV on LG Smart TV
[1] Turn your on LG Smart TV and press the home button on your LG remote control.
[2] Hover the remote control over the LG content store tile on the screen.
[3] Check the LG Content Store for available ones IPTV Apps.
[4] Click on that To install Button to install the IPTV app.
[5] start the IPTV app and start streaming the TV channels.
How to Stream IPTV on LG Smart TV with Smart IPTV
[1] Download and install Smart IPTV from LG content store.
[2] start the IPTV app and get the MAC address.
[3] Go to from your smartphone or PC browser Smart IPTV Website [https://siptv.app/mylist].
[4] Enter the MAC address, M3U fileor URL.
[5] Complete the bot verification and click the Send Button.
[6] After sending, restart your LG Smart TV.
[7] Now Smart IPTV will be updated with M3U playlist file and you can stream all available content.
How to Stream NoraGO IPTV on LG Smart TV
[1] Turn your on LG Smart TV and start the LG content store.
[2] Search for NoraGo IPTV and install the IPTV on your smart TV.
[3] start the NoraGo IPTV app and enter the Provider ID and select Submit.
[4] Select the type of method You want to register.
[5] Enter the username and password and select Submit.
[6] You can now stream the content provided by IPTV.
How to Stream Royal IPTV on LG Smart TV
[1] Start your LG Smart TV and click LG content store.
[2] Enter Royal IPTV in the search bar and install the IPTV app.
[3] open that IPTV app to activate Royal IPTV.
[4] Now go to official site [https://www.royaliptvapp.com/myList.html].
[5] Give her Email ID and LG TV address and select Activate app.
[6] The Royal IPTV app will restart and select the playlist you want to watch
How to Stream IPTV Smarters Player on LG Smart TV
[1] Go to LG content store on your LG Smart TV.
[2] Enter IPTV Smarters Pro in the search bar.
[3] Select the IPTV Smarters Player App from the search results and install it on your Smart TV.
[4] open that IPTV Streamers Pro Player appgive her Name, Username, Password and M3U URL from the provider and select Add User.
[5] With the IPTV Smarters Pro Download for LG Smart TV you can stream the content of the provider on your LG Smart TV.
The Best IPTV Apps Available on LG Smart TV
We have consolidated the list of IPTV players and providers that you can access with your LG TV.
Intelligent IPTV
Smart IPTV is one of the best IPTV player for LG TV available on LG content store. It has no content or playlist, and user need to add m3u url or playlist manually. With it, you can stream your favorite shows and movies on your LG TV.
SS IPTV
SS IPTV or Simple Smart IPTV Player is another compatible IPTV for LG TV that is available for free. It supports various playlist formats including M3U, ASX, PLS, XSPF, etc. So you can play live TV and on-demand titles from different providers. SS IPTV does not come with a playlist, and you should use the IPTV provider's M3U URL.
Home IPTV
Home IPTV is another IPTV player that works on LG TV. You can stream M3U or M3U8 URLs from the IPTV providers so you can stream your favorite titles. It includes the EPG guide and you can add videos to favorite list. Home IPTV has a simple and convenient interface.
AN IPTV
UNO IPTV is one of the best IPTV streaming apps compatible with LG TV. It has 7 Vietnamese TV channels and is legal to stream. You get access to content in 1080p image quality. You can even opt for UNO's IPTV set-top box to stream live TV channels.
Flix IPTV
Flix IPTV is an advanced IPTV player that comes at a premium price. It offers an optimized streaming experience while allowing you to stream titles with EPG support. Flix IPTV comes with parental controls, external playlist support, and more customization options.
Net IPTV
If you want an IPTV player without channels or playlists, you should get Net IPTV. It is a totally free IPTV player that allows you to access M3U playlist URL. You can add channels to favorites, multiple playlists, subtitles and more.
OnPoint IPTV
OnPoint IPTV is one of the best IPTV for LG and other smart TVs. It supports multiple playlist upload and EPG system. The OnPoint IPTV app user interface has a separate area for live TV, films and series.
Royal IPTV
Royal IPTV is worth choosing if you want to experience quality streaming. It offers strong playlist loading performance and has various modes for live TV, series, movies, etc. It supports M3U URLs and Xtream Codes.
OTT player
If you want to access free IPTV app on your webOS, OTT Player is the best option. It supports playlist management, including uploading and editing playlists. Also, you can customize channel order, EPG guide, etc.
Nikon IPTV
Nikon IPTV is one of the best IPTV apps for LG TV to stream live TV, PPV, sports and more. It supports external players, favorites manager, EPG and streaming international channels. You can stream HD and FHD quality titles with less buffering.
Compared to Android TVs, few IPTV apps are available for LG TV. The main reason is that they have their operating system (webOS) instead of the common operating system. Other than that, there is no way to sideload apps on LG Smart TVs. The other IPTV providers like Gamma IPTV, NoraGO IPTV or Helix IPTV are available for LG Smart TV and you can download the app directly from LG Content Store.
frequently asked Questions
Is Xtream IPTV Player available for LG Smart TV?
no Xtream IPTV Player app is currently not compatible with LG TV.
Can I get IPTV Smarters Pro App for LG Smart TV?
Yes. You can use IPTV Smarters Pro on WebOS to upload and stream IPTV.
Is there Duplex IPTV for LG Smart TV?
Yes. Duplex IPTV app is compatible with WebOS and you can use it to stream different titles.

The official URL for this IPTV service is https://yeah-iptv.com/