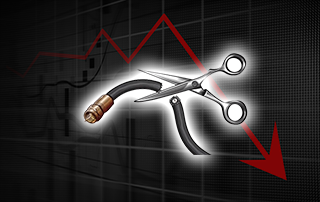 Cable TV providers lost nearly 6 million subscribers in 2022 – Yeah IPTV
Cable TV providers almost lost overall six million subscribers in 2022.
The cable television industry is expected to continue its decline throughout this year as more and more consumers choose to watch it Live TV Services (IPTV).according to a report by eMarketer.
The report predicts that the number of US households subscribing to traditional pay-TV services will fall to 72.7 million by the end of 2023, from 77.6 million in 2021.
The report also predicts that the number of cord cutters, or households, who have canceled their traditional pay-TV service will reach 50.2 million by the end of 2022.
Examples of cable TV providers that have suffered huge losses include:
Comcast: -2,000,000 subscribers
DirectTV: -1,500,000 subscribers
Charter: -686,000 subscribers
Cox: -340,000 subscribers
This trend is largely being driven by the increasing popularity of live TV services, streaming websites and free streaming applications that offer a wider choice of content and greater flexibility in terms of when and where users can watch.
According to eMarketer, the number of US households subscribing to at least one streaming service is expected to reach 200 million by the end of 2022, up from 169 million in 2021.
This move away from traditional pay-TV services is also reflected in cable companies' declining revenues.
The report predicts that the US cable TV industry will see a 9.2% decline in revenue in 2022 with losses totaling $15.96 billion.
Despite these challenges, some cable companies are adapting by offering their own streaming services or collaborating with existing streaming services.
For example, Comcast's Peacock streaming service and AT&T's HBO Max have gained significant traction in the market.
LEGAL DISCLAIMER: Yeah IPTV does not own or operate any IPTV services or streaming applications. We do not host or distribute applications. We do not verify that IPTV services or app developers have the correct license. The end user is solely responsible for media accessed through any device, app, add-on or service mentioned on our website.

For a 100% legal IPTV service, IPTV recommends WIRE vidgo.
Comcast CFO Jason Armstrong told investors at a conference on Feb. 27:
"It's a costly linchpin and we're right in the middle of it."
Disney CEO Bob Iger also noted the following during the company's Q1 2023 earnings call:
"The streaming business, which I believe is the future and has grown, is not delivering the kind of profitability or bottom line that the linear business has delivered for us for a few decades. So we're in a very interesting transition phase, but one that I think is inevitably moving towards streaming."
Overall, the cable TV industry will continue to face major challenges in the coming year as streaming services become increasingly dominant.
For more information, see the official report below.
The Hollywood Reporter press release
For more information on the transition from cable to cable cutting, see the video below.
Legal IPTV Options
It is impossible for IPTV Wire to determine whether an unverified IPTV service, app or add-on has the correct license.
YOU ARE BEING FOLLOWED…
Your online activities are tracked by your ISP, app/addon developers and the government using your identifying IP address.
Stream anonymously with Surfshark VPN.
Surfshark encrypts your connection to the internet and masks your IP address and location so you remain anonymous.
Your current identifying IP address: 68.65.122.96
SAVE 82% + GET 2 MONTHS FREE
Surfshark backs its service with a 30-day money-back guarantee.
Surfshark allows you to use your account on an unlimited number of internet-connected devices
If an IPTV service is deemed illegal, we will notify our users immediately and update the reports on our website.
Finally the End user is responsible for all content Access via free IPTV apps and paid services.
Check out our in-depth guide below for more information on the legality of IPTV and everything you need to know before streaming.
Is IPTV legal? Read this
For 100% verified and legal IPTV providers see the options below:
fuboTV
fuboTV is one of the most popular paid legal IPTV providers among cable cutters around the world, especially among sports fanatics.
The best part is that fuboTV offers a 7-day free trial for new users! This means that you can try the service without any problems.
This IPTV service offers three different plans, with the most popular being $69.99/month for 115+ channels and DVR.
fuboTV – Google Play Store
Philo
Philo is a solid option for those who enjoy entertainment and news channels. This service costs $20.00/month for 60+ channels and unlimited DVR.
Just like fuboTV, Philo also offers one 7-day free trial for new users! This is a must when choosing an IPTV provider.
Philo – Google Play Store
Pluto TV
Pluto TV is another popular free and legal IPTV application used by millions of cable cutters.
This free IPTV provider offers hundreds of live channels as well as thousands of movies and TV shows.
For more information, see our Pluto TV guide below.
How to install Pluto TV APK
Pluto TV – Google Play Store
Related

The official URL for this IPTV service is https://yeah-iptv.com/