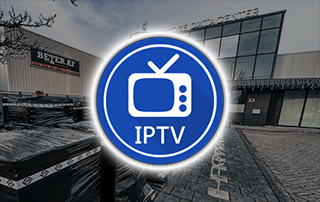 Pirate IPTV Defendant Considered a Flight Risk – Yeah IPTV
A pirate IPTV defendant is now considered a flight risk after his plans were uncovered to restart pirate IPTV operations in another country.
The world of streaming has transformed how we consume media. With the rise of legitimate platforms, there's also been an uptick in pirate IPTV services.
These services, sometimes serving millions of users, can operate seamlessly until they face the wrath of law enforcement.
While many people have transitioned from expensive cable subscriptions to more affordable internet TV, there's a segment of users who gravitate towards the cheapest — and sometimes illegal — plans.
Pirate IPTV services are thus thriving, as they offer a viable, albeit unauthorized, alternative.
A Massive Blow to Pirate IPTV Operations
Dutch fiscal police (FIOD) recently dismantled one of the biggest IPTV operations in Europe. Notably, this wasn't a random crackdown.
The targeted operation was an IPTV behemoth, acting as a backbone to numerous smaller IPTV resellers, cumulatively serving over a million subscribers.
Key players in this illegal empire were arrested, including GLOBE Datacenter, with over 1,200 servers taken offline. Such was the impact that the shutdown led to TVs in hundreds of thousands of homes going dark overnight.
However, in their bid to dismantle the operation, authorities mistakenly shut down the websites of innocent companies, a mishap later addressed upon media intervention.
The Mastermind Behind the Operation
Amidst the crackdown, Hicham O., a 30-year-old Dutchman, emerged as a significant figure. As a manager and shareholder of Globe Datacenter and Satellite Wholesale BV in Almere, his arrest shed light on the scale of the operation.
Hicham is accused of laundering an astounding 17.5 million euros. Arrested conversations revealed that he boasted of monthly revenues to half a million euros, with profits amounting to 200,000 euros.
Despite his pleas of facing mental struggles and his family's precarious financial situation, the court denied his release. The reason? He's seen as a flight risk, especially given his dual nationality (Dutch and Moroccan) and his potential to relocate to Morocco to rejuvenate the pirate IPTV business.
Public Perception and the Impact on Legitimate Businesses
The prosecutor emphasized the normalization of pirate IPTV subscriptions. The attitude that's infiltrated certain sections of society is concerning. Why pay substantial amounts for legitimate streaming when pirate versions are available for a fraction of the cost? This viewpoint has strained legitimate streaming platforms, with companies like Viaplay facing financial troubles.
LEGAL DISCLAIMER: Yeah IPTV does not own or operate any IPTV service or streaming application. We do not host or distribute any applications. We do not verify whether IPTV services or app developers carry the proper licensing. The end-user shall be solely responsible for media accessed through any device, app, addon, or service mentioned on our Website.

For 100% legal IPTV service, Yeah IPTV recommends Vidgo.
While it's not definitively clear how much of Viaplay's financial woes are directly attributable to pirate services, it's evident that such illegal operations are creating significant disruptions in the streaming industry.
The trial against Hicham O. is set for next year, and he isn't the sole defendant. Multiple players are involved, and their trials will unfold on various dates.
Conclusion
The IPTV piracy issue underlines a broader debate about content consumption, legality, and the sustainability of legitimate streaming platforms.
As law enforcement agencies intensify their crackdowns and trials like Hicham O.'s come to the fore, the world will be watching.
It remains to be seen if these legal measures will serve as a deterrent or if pirate services will continue to evolve and find new ways to operate.
Whatever the case, the battle between piracy and legitimate streaming is far from over.
For more information on this story, refer to the report on TorrentFreak and an article from Dutch Local Media.
Legal IPTV Streaming Options
IPTV Wire can't determine whether unverified IPTV services, apps, websites, or add-ons hold the proper licensing.
If and when an IPTV service is deemed illegal, we notify our users immediately and update reports on our website like this one to reflect that information.
In conclusion, the end-user is responsible for all content accessed through free IPTV apps and paid services.
YOU'RE BEING TRACKED…
Your online activity is tracked by your Internet Service Provider, app/addon devs, and government through your identifying IP address.
Stream anonymously by using Surfshark VPN.
Surfshark will encrypt your connection to the Internet and mask your IP address and location so you will become anonymous.
Your Current Identifying IP Address: 68.65.122.96
SAVE 82% + GET 2 FREE MONTHS
Surfshark backs their service with a 30-day money back guarantee.
Surfshark allows you to use your account on unlimited Internet-connected devices
See our detailed guide below for more information on the legality of IPTV and everything you need to know before streaming.
Is IPTV Legal? Read This
For 100% verified and legal IPTV providers, see the options listed below:
fuboTV
fuboTV is one of the most popular paid legal IPTV providers among cord-cutters around the globe, especially sports fanatics.
The best part is fuboTV offers a 7-Day Free Trial for new users! This means you can try the service hassle-free.
This IPTV service offers three different plans with the most popular for $69.99/month for over 115 channels and DVR.
fuboTV Review
fuboTV – Google Play Store
Philo
Philo is a solid option for those who enjoy entertainment and news channels. This service costs $20.00/month for over 60 channels and unlimited DVR.
Just like fuboTV, Philo also offers a 7-Day Free Trial for new users! This is a must-have feature when choosing any IPTV provider.
Philo – Google Play Store
Pluto TV
Pluto TV is another popular free and legal IPTV application used by millions of cord-cutters.
This free IPTV provider offers hundreds of live channels along with thousands of movies and TV shows.
Check out our Pluto TV guide below for more information.
How to Install Pluto TV APK
Pluto TV – Google Play Store
Related

The official URL for this IPTV service is https://yeah-iptv.com/