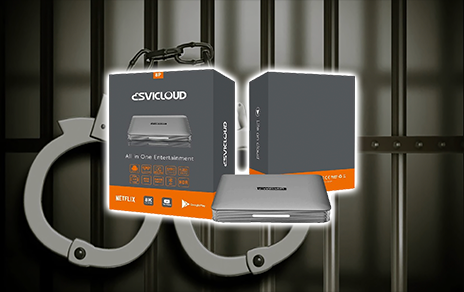 SviCloud IPTV Box Operators Arrested by Police (Full Details) – Yeah IPTV
Seven individuals were arrested by Taiwanese officials for the distribution of the notorious SviCloud streaming boxes.
This operation, which has been lauded by the Alliance For Creativity and Entertainment (ACE), marks a significant step in the fight against copyright infringement and the distribution of pirated content.
On September 27, the Taipei Police made a public announcement about their successful operation against the distributors of SviCloud.
This wasn't just a small-scale bust; the authorities seized over 1,000 illegal Android Boxes and took seven individuals into custody.
What is SviCloud?
For those unfamiliar with the term, SviCloud is a "Fully Loaded" Android TV Box.
This means that it comes pre-installed with various streaming apps, granting users access to many free content. Think of "SuperBox IPTV" as an example.
The features boasted by these boxes are indeed tempting: over 1,000 HD TV channels, a vast library of 200,000+ VOD content, exclusive apps for children, karaoke features, and even high-definition live sports streaming.
These devices are available in a variety of models, with prices ranging from $150 to a whopping $240 for what they dub the "Ultimate Device for Home". Surprisingly, despite the recent raid, the official SviCloud website remains active and operational.
The Dark Side of Fully Loaded Boxes
While the features of the SviCloud box might sound enticing, it's essential to understand the risks and issues associated with such devices.
One of the primary concerns is the potential for these boxes to come with pre-loaded malware. This not only poses a threat to the user's privacy but can also lead to other cyber-security issues.
Moreover, these "Fully Loaded" boxes are often nothing more than generic Android TV devices.
LEGAL DISCLAIMER: Yeah IPTV does not own or operate any IPTV service or streaming application. We do not host or distribute any applications. We do not verify whether IPTV services or app developers carry the proper licensing. The end-user shall be solely responsible for media accessed through any device, app, addon, or service mentioned on our Website.

For 100% legal IPTV service, Yeah IPTV recommends Vidgo.
Sellers typically install a range of apps and APKs onto these boxes to enable streaming. The catch? Many of these streaming apps provide access to content that is copyrighted, making the distribution and use of these boxes illegal.
Furthermore, unsuspecting customers often end up paying a hefty price for these boxes, lured by the promise of free content. In reality, they're paying a significant markup for what is essentially a cheap, generic device.
Why SviCloud?
Of all the sellers in the market, why was SviCloud the focus of this Taiwanese investigation? The answer lies in their notoriety.
SviCloud has emerged as one of the most infamous sellers of these illegal devices, making them a prime target for authorities looking to make a significant impact.
Executive Vice President and Global Content Protection Chief at the Motion Picture Association (MPA) and Head of ACE Jan van Voorn noted the following on the seizure:
"On behalf of all ACE members, I congratulate the Taiwan Police for their swift action against the seven distributors of illegal streaming devices and for reaffirming their dedication to taking down similar operations…

The intellectual property rights of various ACE members were infringed upon by these criminals, but this recent action reinforces how valuable our partnerships are with law enforcement agencies around the world. Partnerships such as this are vital to the success of our global campaign to combat piracy and protect legal content platforms."
This isn't the first time we have seen operators of pirate streaming devices arrested by authorities.
For more information on this story, refer to the official press release from ACE.
Legal IPTV Streaming Options
IPTV Wire can't determine whether unverified IPTV services, apps, websites, or add-ons hold the proper licensing.
If and when an IPTV service is deemed illegal, we notify our users immediately and update reports on our website like this one to reflect that information.
YOU'RE BEING TRACKED…
Your online activity is tracked by your Internet Service Provider, app/addon devs, and government through your identifying IP address.
Stream anonymously by using Surfshark VPN.
Surfshark will encrypt your connection to the Internet and mask your IP address and location so you will become anonymous.
Your Current Identifying IP Address: 68.65.122.96
SAVE 82% + GET 2 FREE MONTHS
Surfshark backs their service with a 30-day money back guarantee.
Surfshark allows you to use your account on unlimited Internet-connected devices
In conclusion, the end-user is responsible for all content accessed through free IPTV apps and paid services.
See our detailed guide below for more information on the legality of IPTV and everything you need to know before streaming.
Is IPTV Legal? Read This
For 100% verified and legal IPTV providers, see the options listed below:
fuboTV
fuboTV is one of the most popular paid legal IPTV providers among cord-cutters around the globe, especially sports fanatics.
The best part is fuboTV offers a 7-Day Free Trial for new users! This means you can try the service hassle-free.
This IPTV service offers three different plans with the most popular for $69.99/month for over 115 channels and DVR.
fuboTV Review
fuboTV – Google Play Store
Philo
Philo is a solid option for those who enjoy entertainment and news channels. This service costs $20.00/month for over 60 channels and unlimited DVR.
Just like fuboTV, Philo also offers a 7-Day Free Trial for new users! This is a must-have feature when choosing any IPTV provider.
Philo – Google Play Store
Pluto TV
Pluto TV is another popular free and legal IPTV application used by millions of cord-cutters.
This free IPTV provider offers hundreds of live channels along with thousands of movies and TV shows.
Check out our Pluto TV guide below for more information.
How to Install Pluto TV APK
Pluto TV – Google Play Store
Related

The official URL for this IPTV service is https://yeah-iptv.com/