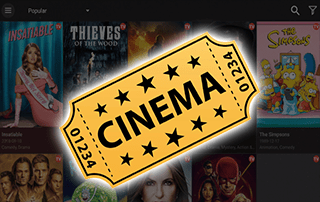 How to Install Cinema HD APK on Firestick (Latest Version) – Yeah IPTV
This guide will show how to install Cinema HD APK on Firestick and review features, settings, and more.
Cinema HD APK is a free streaming app that provides thousands of free movies, TV shows, documentaries, and more.
It is considered among the Best Movie APKs available today for many reasons.
How to Install Cinema HD on Firestick – Video Tutorial
Below we have provided both a video and screenshot guide for installing the latest version of Cinema HD on Firestick.
We suggest watching the video first and then reviewing the screenshots after for more details.
💥 Get Surfshark VPN With Huge Discount
Categories within this app include entertainment, comedy, family, action, adventure, horror, documentaries, anime, and others.
This streaming app can be installed on any Android-powered device, including the Amazon Firestick, Fire TV, Fire TV Cube, NVIDIA Shield, and more.
Cinema HD is one of the most popular apps used by those who Jailbreak their Firesticks.
Cinema provides tons of working links and is frequently updated to ensure that users are never short on content!
Many pair Cinema HD with IPTV services, as many live TV providers don't offer much VOD content.
Is Cinema HD APK Safe?
Before installing this, I first want to scan the official Android APK installation file with VirusTotal.
Here is the screenshot of the scan results.
LEGAL DISCLAIMER: Yeah IPTV does not own or operate any IPTV service or streaming application. We do not host or distribute any applications. We do not verify whether IPTV services or app developers carry the proper licensing. The end-user shall be solely responsible for media accessed through any device, app, addon, or service mentioned on our Website.

For 100% legal IPTV service, Yeah IPTV recommends Vidgo.
VirusTotal did not find any suspicious files or malware within this APK file.
However, this does not mean we shouldn't protect ourselves when streaming content from this 3rd party app.
We strongly recommend using a VPN with these unverified streaming apps. Check out the link below for more information.
Best VPN for Streaming
Below you find information on this free streaming app including how to install it, categories, settings, and more.
Cinema HD APK Highlights
100% free streaming app
Thousands of free movies & TV series
VPN friendly
Compatible with Firestick/Fire TV and Android devices
Easy to install APK on Downloader
Real-Debrid integration
Trakt support
Settings configuration
Favorites manager
External video player support
Screenshots
How to Install Cinema HD APK on Firestick (Screenshot Guide)
Cinema HD APK is available for installation on several popular streaming devices.
This includes the Amazon Firestick, Fire TV, NVIDIA Shield, Android TV Boxes, Chromecast, Android phones, tablets, and any device running the Android operating system.
To install this app you must first install Downloader on your device. Use our Downloader guide below for more information on that.
YOU'RE BEING TRACKED…
Your online activity is tracked by your Internet Service Provider, app/addon devs, and government through your identifying IP address.
Stream anonymously by using Surfshark VPN.
Surfshark will encrypt your connection to the Internet and mask your IP address and location so you will become anonymous.
Your Current Identifying IP Address: 68.65.122.96
SAVE 82% + GET 2 FREE MONTHS
Surfshark backs their service with a 30-day money back guarantee.
Surfshark allows you to use your account on unlimited Internet-connected devices
How to Install Downloader App for Sideloading
After installing the Downloader app, follow the steps below for installing Cinema HD APK on Firestick/Fire TV and Android devices.
1. Launch the Downloader app.
2. Enter the following URL – https://cinemahdapkapp.com/download and click Go.
This is the official source of Cinema HD APK
Note: You can also enter the following Downloader Code – 988552
3. Scroll down and click Download Cinema HD APK. This should always be pointing to the latest version.
4. Wait for the app to download.
5. Click Install.
6. Click Open or Done.
7. Launch Cinema HD APK and click OK if presented with the developer Change Logs.
8. That's it! You have successfully installed the Cinema HD APK on your device.
This APK also allows for external video players, favorites, and other settings to improve user experience. Continue reading below.
Cinema HD on Firestick – Features & Details
Cinema HD APK is a popular streaming app for movies, TV, live channels, and more.
The main categories within this app include Movies, TV/Shows, Favorites, History, Show Calendar, Settings, and more.
Real-Debrid Integration
One of the most popular features within Cinema HD APK is the ability to integrate Real-Debrid within the application.
Real-Debrid is a premium service for less than $5/month that populates higher-quality streaming links for smoother playback.
Follow the steps below for integrating Real-Debrid within Cinema HD.
1. Click the Menu button in the upper left-hand corner (3 horizontal lines).
2. Scroll down and choose Settings.
3. Click Login to Real-Debrid.
4. Note the code that appears on the screen.
5. Visit the following URL on any browser – real-debrid.com/device.
6. Type in the code from step 4 and click Continue.
7. You will then receive an authorization complete notification.
8. Return back to the Settings within Cinema HD and you should find you are now logged in with Real-Debrid.
9. That's it! You will see Real-Debrid links highlighted yellow after making your content selection.
Continue below for integrating external video players.
External Video Players
Cinema HD also allows users to integrate external video players including MX Player, VLC, and others to improve playback.
Follow the short guide below for using external video players in Cinema HD.
1. First install any external video player such as MX Player or VLC Player. In this example, we used MX Player.
MX Player – Google Play Store
2. Launch Cinema HD and click the menu icon in the upper left corner.
3. Click Choose default player.
4. Click MX Player or whichever player you installed.
5. That's it! You will notice it now says "MX" under the Choose default player option.
Subtitles
Another great feature within Cinema HD APK is the ability to use Subtitles when playing content.
See the steps below for using subtitles within the app.
1. Open your selected movie or TV show. In this example, we are using a public-domain movie.
2. Once the movie starts to play, click the dialogue button in the upper right-hand corner of the screen.
3. Choose your preferred language.
4. Select one of the provided subtitle options.
5. The movie will now play with subtitles on the bottom of the screen.
Is Cinema HD APK Legal?
It's impossible to determine whether an unverified application holds the proper licensing.
If and when an application is deemed illegal, we notify our users immediately and update reports on our website to reflect that information.
At first glance, it would appear that Cinema HD is distributing copyrighted works without consent.
In conclusion, the end-user is responsible for all content accessed through unverified streaming apps and services.
Cinema HD APK FAQ
What is Cinema HD APK?
Cinema HD APK is an Android application that allows users to stream and download movies and TV shows for free. It aggregates links from various sources to provide a large library of content. The app offers high-quality streams and also provides different server options to ensure uninterrupted viewing.
Is Cinema HD APK Legal?
Cinema HD APK, as an application, isn't illegal. However, the legality of the content it provides can be questionable, depending on your country's laws about copyrighted material. Streaming copyrighted content without proper authorization or licenses is illegal in many places. Therefore, it's recommended to use a VPN for privacy and to adhere to the copyright laws in your country.
Is Cinema HD APK Safe?
Yes. After scanning with VirusTotal the software did not find any suspicious files or malware within the official APK file.
However, you should always use a VPN to protect yourself from 3rd party app developers, hackers, your ISP, and others.
What Devices can this Streaming App be Installed On?
Cinema HD is available for installation on tons of devices including the Amazon Firestick which is the most popular streaming device available. Users can also download on Android and more.
Why Isn't Cinema HD APK Available on Google Play Store?
This app is not available on Google Play Store due to its nature of providing free streaming of copyrighted content, which is against Google's policies. Google Play Store strictly follows copyright laws and regulations, and apps that do not adhere to these are not allowed.
Does This App Require a Subscription or Payment?
No, this app is completely free to use. There's no requirement for a subscription or payment. It provides free access to a wide range of movies and TV shows. However, because it's free, you might encounter ads while using the app.
How can I Resolve Buffering Issues on Cinema HD?
Buffering issues can occur due to various reasons including poor internet connection, high traffic on the server, or the host's streaming speed. Try these steps to resolve the issue:
Check your internet connection and speed.
Close and reopen the app.
Try a different movie or server as some servers may be faster than others.
Clear the app's cache from your device's settings.
How Can I Update Cinema HD APK to the Latest Version?
Updates for Cinema HD APK are typically made available through the app itself, with prompts to update appearing when you open it. If this doesn't happen, you can visit the official website or your trusted third-party source and download the latest version of the APK file. Remember to uninstall the old version before installing the new one to avoid any conflicts.
Related

The official URL for this IPTV service is https://yeah-iptv.com/