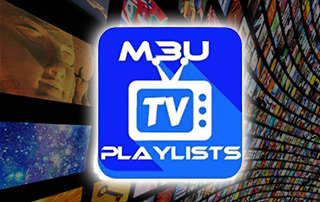 How to Install M3U Playlists for Watching Free Live TV (2023) – Yeah IPTV
The following guide shows how to install M3U Playlists for streaming live TV channels on any device.
Using an M3U playlist is a fabulous way to stream thousands of live channels from anywhere worldwide. These work similarly to Xtream Codes.
Thousands of M3U Playlists will provide you with access to tons of streaming options on an Amazon Firestick and other devices.
How to Install M3U Playlists – Video Guide
Below, we have provided a video and screenshot guide for installing an M3U playlist on any device using a live TV player.
Get Surfshark VPN with Huge Discount
Best Free M3U Playlists (Overall)
The following free M3U playlists can be loaded into any IPTV player, as explained in the tutorial below.
Samsung M3U Playlist – https://i.mjh.nz/SamsungTVPlus/all.m3u8 (used in the tutorial below)
GitHub M3U Playlist – https://iptv-org.github.io/iptv/index.nsfw.m3u
PBS M3U Playlist – https://i.mjh.nz/PBS/all.m3u8
Plex M3U Playlist – https://i.mjh.nz/Plex/all.m3u8
PlutoTV M3U Playlist – https://i.mjh.nz/PlutoTV/all.m3u8
Stirr M3U Playlist – https://i.mjh.nz/Stirr/all.m3u8
NZAU Kodi TV Playlist – https://i.mjh.nz/nzau/kodi-tv.m3u8
What is an M3U Playlist?
M3U playlists are the direct playlist files that IPTV Services, Free IPTV Apps, and even Kodi Addons use to broadcast live television channels.
These are typically URL links that users can download and insert into video players.
We can easily install and set up the best free M3U playlist on many devices, including the Amazon Firestick, Android, and more.
This is the most popular streaming device because of its low price and jailbreaking abilities.
To access an M3U playlist, you must have a video player installed on your device.
LEGAL DISCLAIMER: Yeah IPTV does not own or operate any IPTV service or streaming application. We do not host or distribute any applications. We do not verify whether IPTV services or app developers carry the proper licensing. The end-user shall be solely responsible for media accessed through any device, app, addon, or service mentioned on our Website.

For 100% legal IPTV service, Yeah IPTV recommends Vidgo.
In this tutorial, we are using IPTV Smarters Pro, which is one of the most popular live TV players available today.
However, you can also insert these playlists into various video players such as MX Player Pro, VLC Player, and Kodi.
The best way to add M3U playlists for live streaming is by inserting the M3U playlist into your preferred IPTV player.
In this guide, we are using an Amazon Firestick 4K. However, this will work for any Fire TV device, Android TV Box, phone, or tablet.
IMPORTANT NOTE: We strongly suggest connecting to a VPN before installing any M3U playlists, as we do not know the developers or hosts of these files.
Best VPN for IPTV
How to Install M3U Playlists (Screenshot Guide)
To use a free M3U playlist, we must insert it into a video player or IPTV player.
In this instance, we are using IPTV Smarters Pro, one of the most popular players available today.
We even showed how to use an M3U playlist by pairing IPTV Smarters Pro in our Samsung TV Plus APK tutorial.
1. Install the Downloader app from your App Store (Amazon or Google Play) and turn on Apps from Unknown Sources in the settings of your device.
YOU'RE BEING TRACKED…
Your online activity is tracked by your Internet Service Provider, app/addon devs, and government through your identifying IP address.
Stream anonymously by using Surfshark VPN.
Surfshark will encrypt your connection to the Internet and mask your IP address and location so you will become anonymous.
Your Current Identifying IP Address: 68.65.122.96
SAVE 82% + GET 2 FREE MONTHS
Surfshark backs their service with a 30-day money back guarantee.
Surfshark allows you to use your account on unlimited Internet-connected devices
If you haven't done this yet please refer to the tutorial below that walks through this simple process.
How to Install Downloader App
2. Launch Downloader
3. Click the search box and enter the following URL – iptvwire.com/smarters and click Go.
Note: This can also be installed using the Quick Links code 298344
4. Wait for the app to download
5. Click Install.
6. Click Open or Done.
7. Launch IPTV Smarters Pro.
8. Click Accept.
9. You have successfully installed IPTV Smarters Pro on your device.
Continue below for setting up a free M3U playlist using IPTV Smarters.
How to Set Up Free M3U Playlist
With IPTV Smarters installed, we can now insert an M3U playlist and access thousands of live TV channels.
Follow the steps below for accessing these free M3U playlists via Samsung TV Plus.
1. When first launching IPTV Smarters Pro on your device choose your device option. Most will be using TV so pick that option and click Save.
2. Click Load Your Playlist or File/URL.
3. Click Allow.
4. Enter a name for this M3U playlist and select M3U URL for Playlist Type.
5. Click the File/URL box to insert your M3U URL.
6. Enter the following URL – https://i.mjh.nz/SamsungTVPlus/all.m3u8 and click Next. This M3U playlist is hosted by Samsung TV Plus.
Note: Additional free M3U playlists are located below this tutorial.
7. Then click Add User.
8. Wait a few seconds for your channels to download. You should notice a "user added successfully" message.
9. Then select Live TV.
10. You can now access thousands of free live channels!
Read below for more M3U playlist options on region-specific content and general information.
Best M3U Playlists (By Country)
The free M3U playlists listed below are region-specific and include thousands of live channels that can be uploaded to any IPTV player.
United States (USA) – bit.ly/3Gk5aSJ
United Kingdom (UK) – bit.ly/3YLlUK9
Australia – bit.ly/3Q1UtYw
Brazil – bit.ly/3vhmpxN
Canada – bit.ly/3hTZSEm
France – bit.ly/3GhT2BU
Germany – bit.ly/3WFof7k
Japan – bit.ly/3hYkqeH
India – bit.ly/3I41p5t
Italy – bit.ly/3vpr0Op
Mexico – bit.ly/3IcZwDg
Puerto Rico – bit.ly/3PSePmR
Philippines – bit.ly/3jwR7Az
Russia – bit.ly/3vhaVKX
South Korea – bit.ly/3HYKHnY
Singapore – bit.ly/3jko5Uv
Spain – bit.ly/3I0qmPb
Thailand – bit.ly/3GjZs3m
M3U Playlists – Details & Information
As mentioned previously, we strongly suggest using a VPN in conjunction with these free M3U playlists to protect your online identity.
While using a free M3U playlist is a great way to access live content on any device, these are not always reliable.
You may encounter buffering and find these playlists often go offline.
For the best live streaming experience, you can always use legal IPTV providers such as fuboTV, Vidgo, YouTube TV, and others.
Overall, these free M3U playlists are a simple way for cord-cutters to access thousands of live channels on any device!
If you are brand new to Internet Protocol Television (IPTV), we suggest viewing our intro guide below.
How to Setup – Beginner's Guide to Live TV
Frequently Asked Questions
What is the Best Free M3U Playlist?
There are thousands of M3U Playlists available and we provide the best options from the most popular live channels in the list above.
What is an M3U Playlist?
An M3U playlist is a downloadable file that users can insert into various media players to access content such as video files, live feeds, and more.
What Does M3U Mean?
"M3U" generally refers to m3u files, or playlists, available for free use. An m3u file is a plain text file that lists one or more media files for playback. This can include music, podcasts, or even videos. The term "free" signifies that these files are available without charge.
Can You Watch Live TV with M3U?
Yes. This guide will show you how to stream live tv with a free M3U playlist using a video player.
What Players Work with M3U Playlists?
Many players work well with free M3U playlists including MX Player, VLC Player, IPTV Smarters, and more.
What is the Best M3U Player?
The best IPTV player to use for M3U playlists is IPTV Smarters Pro.
Are Free M3U Playlists Legal?
IPTV Wire can't determine whether a free M3U playlist holds the proper licensing. The end-user is responsible for all content accessed through free M3U playlists and unverified IPTV services/apps.
Where Can I Find Free M3U Playlists?
Free m3u playlists can be found on various online platforms and websites like this one. There are numerous internet radio stations, podcast directories, and user-shared playlist sites that provide m3u files. Be careful to only download from reputable sources, as there's a risk of downloading malicious files.
Can I Create My Own M3U Playlists?
Yes, you can create your m3u playlists. You only need a text editor to create a file with the .m3u extension. Within this file, you list the URLs or file paths of the media files you want to include in the playlist. Each URL or file path should be on a new line.
Related

The official URL for this IPTV service is https://yeah-iptv.com/