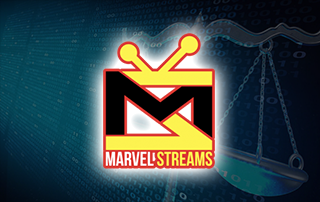 IPTV service operator Marvel Streams arrested and sent to prison – Yeah IPTV
The alleged operator of Marvel streams IPTV was arrested after the closure of the service.
Marvel Streams was very popular IPTV service used by thousands of cable cutters around the world.
Marvel streams shut down
As early as March 2022, the IPTV service Marvel Streams suddenly went offline and many of its customers were asking questions.
If you look at the latest tweet from her Twitter account, you'll find several replies from users saying, "Did the system just go down?" or "What happened to your service?"
If you want to install #IPTV streaming, then we are here at Marvel Streams bringing you the highest quality IPTV streaming services. You will never face any problem after using our services. https://t.co/fJy2h3seiF pic.twitter.com/kuU5xfDnwX

– Marvel Streams (@MarvelStreams) January 3, 2020
Shutdowns and service interruptions can be common in the world of IPTV, but the reason for this shutdown was more interesting.
Marvel Streams IPTV operator arrested
The shutdown of Marvel Stream was reportedly due to the operator being searched in the UK.
Investigators working for BT Sport and Sky apparently bought a subscription to Marvel Streams and confirmed the content was broadcast illegally.
This case was then referred to the North West Regional Organized Crime Unit (NWROCU), which has been involved in similar IPTV piracy cases in recent years.
The NWROCU, with the help of other authorities, has targeted and arrested an individual in Claughton, Merseyside, believed to be the sole operator of Marvel Streams.
The alleged operator was then charged under the Copyright, Design and Patent Act (CDPA), alleging that the suspect, in the course of a deal, "marketed an illegal service that enabled or facilitated the circumvention of effective technological measures."
Anyone found guilty of this offense will be punished with imprisonment for a maximum of three months, a fine and a conviction on arraignment with the possibility of a maximum prison sentence of two years.
The reports in this story go on to say that the alleged operator of Marvel Streams will appear in magistrates' court in early October and from there the case will be referred to a Crown Court by November at the latest.
Overall, it'll be interesting to see what happens to the operator of Marvel Streams and who's next on the UK authorities' radar.
This isn't the first time notable IPTV services have been shut down by ACE and other authorities:
Is IPTV legal?
It is impossible for IPTV Wire to determine whether an unverified IPTV service, app or add-on has the correct license.
If an IPTV service is deemed illegal, we will notify our users immediately and update reports on our website like this one to reflect that information.
In summary, the end user is responsible for all content accessed through free IPTV apps and paid services.
Check out our in-depth guide below for more information on the legality of IPTV and everything you need to know before streaming.
Is IPTV legal? Read this
For 100% verified and legal IPTV providers see the options below:
WARNING! THEY ARE BEING FOLLOWED
Your online activity is actively tracked by IPTV developers, your ISP and the government through your identifying IP address.
IPTV services have been linked to organized crime and you don't want your personal information getting into their hands.
Stream anonymously with Surfshark VPN.
Surfshark encrypts your connection to the internet and masks your IP address to keep you anonymous.
SAVE UP TO 82% WITH THIS LAST CHANCE DISCOUNT
Surfshark backs its service with a 30-day money-back guarantee.
Surfshark allows you to use your account on an unlimited number of internet-connected devices
fuboTV
fuboTV is one of the most popular paid legal IPTV providers among cable cutters around the world, especially among sports fanatics.
The best part is that fuboTV offers a 7-day free trial for new users! This means that you can try the service without any problems.
This IPTV service offers three different plans, with the most popular being $69.99/month for 115+ channels and DVR.
fuboTV – Google Play Store
Philo
Philo is a solid option for those who enjoy entertainment and news channels. This service costs $20.00/month for 60+ channels and unlimited DVR.
Just like fuboTV, Philo also offers one 7-day free trial for new users! This is a must when choosing an IPTV provider.
Philo – Google Play Store
Pluto TV
Pluto TV is another popular free and legal IPTV application used by millions of cable cutters.
This free IPTV provider offers hundreds of live channels as well as thousands of movies and TV shows.
For more information, see our Pluto TV guide below.
How to install Pluto TV APK
Pluto TV – Google Play Store
For more popular IPTV Wire resources, check out our most popular articles below.
LEGAL DISCLAIMER: Yeah IPTV does not own or operate any IPTV services or streaming applications. We do not host or distribute applications. We do not verify that IPTV services or app developers have the correct license. The end user is solely responsible for media accessed through any device, app, add-on or service mentioned on our website.

For a 100% legal IPTV service, IPTV recommends WIRE vidgo.
Marvel Streams IPTV Operator Arrested FAQ
What happened to Marvel Streams?
Marvel Streams IPTV was shut down by UK authorities and the operator was eventually arrested.
What are the Best Marvel Streams IPTV Alternatives?
The best Marvel Streams IPTV alternatives include Vidgo, fuboTV, Philo and others that we include in this list.
Is IPTV legal?
Since some of the apps listed cannot be installed through the Amazon App Store or Google Play Store, it is difficult to determine whether an IPTV app or service is licensed correctly.
Is IPTV Safe?
This all depends on the specific IPTV service. We recommend using a VPN when streaming with free or cheap IPTV apps as we don't know who develops these apps and what they log.
Related



The official URL for this IPTV service is https://yeah-iptv.com/