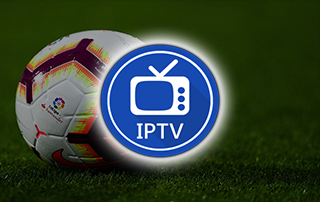 LaLiga and Moviestar Plus Block Over 70 IPTV and Torrent Sites – Yeah IPTV
LaLiga and Moviestar Plus have blocked over 70 IPTV and torrent sites.
You can find the full list of blocked domains towards the end of this article.
Spanish football league, LaLiga, and Telefónica's Movistar Plus+ are upping their game against piracy.
LaLiga is no stranger when it comes to battling online piracy. A few months ago, we saw their assistance with three arrests, and they also reported IPTV apps as illegal.
Their ongoing mission? To protect the intellectual property of live matches, ensuring that viewers don't gain access for free.
Their chosen method, as recent events have uncovered, is instructing local ISPs to block pirate sites.
However, the specifics of these blocked sites have raised eyebrows and led to an intensified debate.
ISP Blockings: A Brief History
While large media corporations often use ISP blocking injunctions, their targets have evolved. Previously, movie and TV show sites were on the radar. Now, it's the live TV streams, particularly sports broadcasts.
Given that live streams pose a more intricate challenge than static websites, courts have begun to lean towards granting rightsholders more flexibility in their anti-piracy endeavors.
LaLiga and MovieStar Plus Block IPTV
LaLiga and Movistar Plus+, in their effort to curb the piracy of live TV streams, have already secured court permission for ISP blocking.
Impressively, in 2022, Telefónica convinced a judge to impose a three-hour window for ISPs to block IPTV streaming servers upon notification.
A local tech news site, Bandaancha, recently released a list of nearly 80 domains that are slated for ISP blocking.
LEGAL DISCLAIMER: Yeah IPTV does not own or operate any IPTV service or streaming application. We do not host or distribute any applications. We do not verify whether IPTV services or app developers carry the proper licensing. The end-user shall be solely responsible for media accessed through any device, app, addon, or service mentioned on our Website.

For 100% legal IPTV service, Yeah IPTV recommends Vidgo.
This list predominantly features domains connected with illegal IPTV services or web-based illicit streaming websites.
Yet, curiously, a considerable portion is marked as 'torrent', a classification seldom associated with live sports stream piracy.
Ace Stream
Ace Stream's inclusion in this blocklist has become a talking point. While acestream.org doesn't host copyrighted content directly, it's undeniable that some use its software to infringe copyrights.
Nevertheless, the Ace Stream developers are firm in their stance: their software is content-neutral and entirely lawful.
Furthermore, the list features www.futbolgratis.workers.dev, a domain that acknowledges Telefónica's blockade before redirecting users elsewhere.
Given its function to provide Ace Stream links tied to illegal live streams, its presence on the list seems justified.
The Controversy Around Explodie.org
One glaring error is the inclusion of 6explodie.org—a non-existent domain. The actual target, it appears, might be explodie.org. This is where it gets controversial.
Explodie.org is maintained by developer Jacob Taylor, an advocate for net neutrality.
He operates a public BitTorrent tracker that adheres to DMCA takedown requests. Despite this, his personal site, far from a pirate platform, seems to be facing unwarranted censorship across Spain.
YOU'RE BEING TRACKED…
Your online activity is tracked by your Internet Service Provider, app/addon devs, and government through your identifying IP address.
Stream anonymously by using Surfshark VPN.
Surfshark will encrypt your connection to the Internet and mask your IP address and location so you will become anonymous.
Your Current Identifying IP Address: 68.65.122.96
SAVE 82% + GET 2 FREE MONTHS
Surfshark backs their service with a 30-day money back guarantee.
Surfshark allows you to use your account on unlimited Internet-connected devices
The Grey Area of Public BitTorrent Trackers
The list incorporates other public BitTorrent trackers, such as open.acgtracker.com and internetwarriors.net, though their inclusion rationale remains murky.
These trackers don't host content directly; they only help connect torrent transfers from other sources. Blocking such sites, with legitimate uses, brings forth questions on the proportionality of the response under EU law.
LaLiga and Moviestar Plus IPTV Blocking – Final Thoughts
Most of the domains on the blocklist have valid reasons for their inclusion. Some have shifted domains, while others blatantly flaunt their intent.
But in cases where there's limited transparency, wrongful blockings become a genuine concern.
Full List of Blocked Domains
Below are the domains from the IPTV blocking list provided by Bandaancha.eu:
acestream.org
arenavision.site
6irmz.top
chiletv.xyz
dropfile.com
e7b8bcf34bb8735ca0da79183299.lig4retnec.co
emyb.in
firetvset.net
fjernsynet.xyz
fre7.flycany.me
full003tv.xyz
gioggg.net
golatin.online
huang6nis.xyz
iptvsharks.com
magadam1.xyz
mega1005002877313670.xyz
nitroty.us
pelisyseriespty.xyz
santmarcta.life
somosvip.xyz
suptv-nord.com
tecnoiptv.es
theredball.ddnsgeek.com
xenty.club
iptvforall.app
tvpremiumhd.tv
bobres.co
iptvwink.com
jokeriptv.net
getsportztv.com
onetvservices.com
1stream.top
3papahd3.icu
bdnewsch.com
cricfree.live
cricfree.top
dreko11.net
en5.sportplus.live
freelive365.nl
hd.crichd.cx
hockeyweb.live
izlemac16.xyz
jokersecretpage.xyz
m.rojadirecta.fun
motornews.live
p2pstreams.live
pepperlive.info
socolive.pro
sportinglive.co
sportsnest.co
stakes100.xyz
techoreels.com
tezgoal.com
vipboxs.com
weakstreams.com
www.cyfostreams.com
www.hdmatch.xyz
ovostreams.com
www.rojadirectatenvivo.com
www.sportnews.to
zdsports.org
www.futbolgratis.workers.dev
6explodie.org
open.acgtracker.com
open.stealth.si
share.camoe.cn
thetracker.org
t.nya.atracker.com
tracker.coppersurfer.tk
tracker-electro-torrent.pl
internetwarriors.net
tracker.tfile.co
tracker.tfile.me
tracker.tiny-vps.com
tracker.toment.eu.org
tracker.tvunderground.org.ru
tracker.vanitycore.co
For more information on this story, you can view the reports on Bandaancha and TorrentFreak.
Legal IPTV Streaming Options
IPTV Wire can't determine whether unverified IPTV services, apps, websites, or add-ons hold the proper licensing.
If and when an IPTV service is deemed illegal, we notify our users immediately and update reports on our website like this one to reflect that information.
In conclusion, the end-user is responsible for all content accessed through free IPTV apps and paid services.
See our detailed guide below for more information on the legality of IPTV and everything you need to know before streaming.
Is IPTV Legal? Read This
For 100% verified and legal IPTV providers, see the options listed below:
fuboTV
fuboTV is one of the most popular paid legal IPTV providers among cord-cutters around the globe, especially sports fanatics.
The best part is fuboTV offers a 7-Day Free Trial for new users! This means you can try the service hassle-free.
This IPTV service offers three different plans with the most popular for $69.99/month for over 115 channels and DVR.
fuboTV Review
fuboTV – Google Play Store
Philo
Philo is a solid option for those who enjoy entertainment and news channels. This service costs $20.00/month for over 60 channels and unlimited DVR.
Just like fuboTV, Philo also offers a 7-Day Free Trial for new users! This is a must-have feature when choosing any IPTV provider.
Philo – Google Play Store
Pluto TV
Pluto TV is another popular free and legal IPTV application used by millions of cord-cutters.
This free IPTV provider offers hundreds of live channels along with thousands of movies and TV shows.
Check out our Pluto TV guide below for more information.
How to Install Pluto TV APK
Pluto TV – Google Play Store
Related

The official URL for this IPTV service is https://yeah-iptv.com/