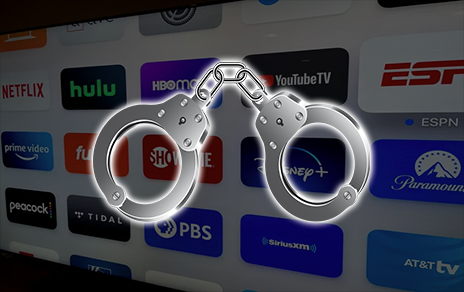 Man Arrested for Reselling Hacked Streaming Service Accounts – Yeah IPTV
A 29-year-old man has been sentenced to prison for reselling hacked streaming service accounts.
The vast expansion of streaming services has undoubtedly transformed our consumption of music and video content, creating a generation accustomed to on-demand entertainment and allowing companies to generate billions of dollars in revenue.
Despite the convenience, the ongoing battle between affordability, piracy, and the illegitimate reselling of hacked accounts continues to mar the industry, exemplified recently by the arrest of a 29-year-old man in Denmark.
Rise of Streaming Services
Over the past decade, streaming services have increased, becoming the dominant mode of consumption for music and video.
Pioneers like Netflix even positioned themselves as competitors to piracy, providing a legal, reliable, and user-friendly alternative.
The success of these platforms attracted casual pirates who initially found value in the legal options available, thus contributing to the industry's rapid growth.
Streaming Wars and Piracy Resurgence
However, as more services entered the market, focusing on exclusive content to entice subscribers, the landscape became fragmented, and users were forced to subscribe to multiple services to access their desired content.
Ironically, the cost surge and complexity are pushing some consumers back towards illegal alternatives, including pirated content and hacked accounts available at lower prices.
Criminal Underworld of Account Reselling
The illicit reselling of hacked streaming service accounts has become a rampant issue.
Recently, Danish authorities charged a man with reselling 500,000 hacked accounts, obtained likely through data leaks, including credentials for online streaming services like HBO Max, Paramount+, and Viaplay.
These were sold at a fraction of the official subscription prices.
The Dangers of Reselling
While the allure of cheaper prices tempts many, the resellers operate in the shadows of illegality, exploiting stolen data for profit and jeopardizing the privacy and security of unsuspecting customers whose accounts have been compromised.
LEGAL DISCLAIMER: Yeah IPTV does not own or operate any IPTV service or streaming application. We do not host or distribute any applications. We do not verify whether IPTV services or app developers carry the proper licensing. The end-user shall be solely responsible for media accessed through any device, app, addon, or service mentioned on our Website.

For 100% legal IPTV service, Yeah IPTV recommends Vidgo.
The cases in Denmark are not isolated incidents, and similar operations exist worldwide, highlighting the pervasive nature of this illicit market.
Legal Recourse and its Implications
The arrest in Denmark underscores the seriousness with which authorities are treating account reselling.
These cases spotlight the constant evolution of criminal models designed to profit off illegal content distribution, impacting not only companies but also unsuspecting individuals whose accounts are compromised.
The Danish Rights Alliance applauds the stringent action against these criminals, seeing it as a pivotal step in combating the clandestine operations undermining the streaming industry.
A United Front: The Streaming Innovation Alliance
In response to the ongoing issues, major streaming services like Netflix, HBO, and Disney have unified to form the Streaming Innovation Alliance (SIA).
This coalition aims to address affordability, acknowledging its significance to consumers, as evidenced by a survey revealing that over half of consumers find streaming services expensive, and 75% consider cost crucial when choosing a service.
Affordability—A Silent Catalyst
The consumer sentiment around the cost of streaming services elucidates the reason behind the inclination towards illegal alternatives, emphasizing the role of affordability as a silent catalyst for piracy and illicit reselling.
While SIA aims to alleviate the financial burden on consumers, their focus is currently on countering regulatory taxes and other external costs rather than directly reducing subscription prices.
YOU'RE BEING TRACKED…
Your online activity is tracked by your Internet Service Provider, app/addon devs, and government through your identifying IP address.
Stream anonymously by using Surfshark VPN.
Surfshark will encrypt your connection to the Internet and mask your IP address and location so you will become anonymous.
Your Current Identifying IP Address: 68.65.122.96
SAVE 82% + GET 2 FREE MONTHS
Surfshark backs their service with a 30-day money back guarantee.
Surfshark allows you to use your account on unlimited Internet-connected devices
A Missed Opportunity?
The reluctance to directly address the cost of services to the consumer is a missed opportunity.
The coalition could be a powerful platform to innovate solutions to mitigate costs, which in turn could potentially curb the illegal trade of hacked accounts and indirectly enhance the security and experiences of the subscribers.
Final Thoughts
While streaming services have revolutionized entertainment consumption, the challenges posed by piracy, account hacking, and reselling are significant and cannot be overlooked.
The complex nexus between affordability, consumer choice, and illegal alternatives is becoming a central issue, requiring innovative solutions and perhaps a rethink of business models.
For more information on this story, refer to the report from TorrentFreak.
Legal IPTV Streaming Options
IPTV Wire can't determine whether unverified IPTV services, apps, websites, or add-ons hold the proper licensing.
If and when an IPTV service is deemed illegal, we notify our users immediately and update reports on our website like this one to reflect that information.
In conclusion, the end-user is responsible for all content accessed through free IPTV apps and paid services.
See our detailed guide below for more information on the legality of IPTV and everything you need to know before streaming.
Is IPTV Legal? Read This
For 100% verified and legal IPTV providers, see the options listed below:
fuboTV
fuboTV is one of the most popular paid legal IPTV providers among cord-cutters around the globe, especially sports fanatics.
The best part is fuboTV offers a 7-Day Free Trial for new users! This means you can try the service hassle-free.
This IPTV service offers three different plans with the most popular for $69.99/month for over 115 channels and DVR.
fuboTV Review
fuboTV – Google Play Store
Philo
Philo is a solid option for those who enjoy entertainment and news channels. This service costs $20.00/month for over 60 channels and unlimited DVR.
Just like fuboTV, Philo also offers a 7-Day Free Trial for new users! This is a must-have feature when choosing any IPTV provider.
Philo – Google Play Store
Pluto TV
Pluto TV is another popular free and legal IPTV application used by millions of cord-cutters.
This free IPTV provider offers hundreds of live channels along with thousands of movies and TV shows.
Check out our Pluto TV guide below for more information.
How to Install Pluto TV APK
Pluto TV – Google Play Store
Related

The official URL for this IPTV service is https://yeah-iptv.com/