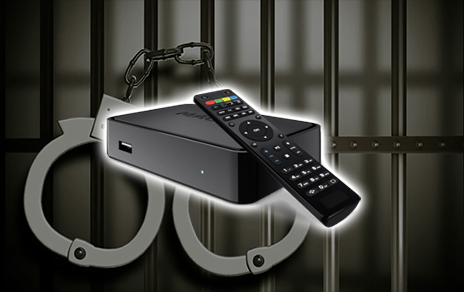 Pirate IPTV Box Sellers Sentenced to Prison – Yeah IPTV
Two pirate IPTV box sellers have been sentenced to prison following an investigation from Sky.
In a world where technology is ever-advancing, piracy remains a constant adversary to intellectual property rights.
Recently, two men from Northern Ireland were sentenced at Belfast Crown Court for selling piracy-configured set-top IPTV boxes and providing access to pirate IPTV services, revealing the widespread and persistent issue of content piracy.
Pirate IPTV Box Sellers Sentenced to Prison
Padraig McVicker and Gary Doherty were investigated by the Police Service of Northern Ireland (PSNI) and subscription broadcaster Sky between September 2018 and January 2019.
The inquiry zeroed in on their Belfast business, where devices were sold to provide pirated TV channels and supply of streaming services (IPTV).
It was uncovered that the business, where McVicker was the sole director, was involved in different facets of the satellite TV trade, also selling, distributing, and exposing for sale or hire unauthorized decoders.
Piracy Configured Devices
Despite the increasing awareness and continuous campaigns against the sale of piracy-configured set-top boxes and pirate IPTV subscriptions, a significant number of individuals continue to indulge in these illicit activities.
These devices, when modified or adapted to stream content without proper licenses and the consent of creators, violate intellectual property rights and are deemed illegal.
Detective Chief Inspector Tom Phillips stresses the significant difference between standard IPTV devices and those illegally modified, remarking that many perceive these as victimless crimes, oblivious to the serious offenses lurking behind such services.
Legal Implications
The duo faced charges under several legislations, including the Copyright Designs and Patents Act 1988, the Communications Act 2003, and the Proceeds of Crime Act 2002.
LEGAL DISCLAIMER: Yeah IPTV does not own or operate any IPTV service or streaming application. We do not host or distribute any applications. We do not verify whether IPTV services or app developers carry the proper licensing. The end-user shall be solely responsible for media accessed through any device, app, addon, or service mentioned on our Website.

For 100% legal IPTV service, Yeah IPTV recommends Vidgo.
They pleaded guilty to various offenses, such as "Selling, Distributing Or Letting For Hire Or Exposing For Sale Or Hire An Unauthorized Decoder," which is a blatant violation of intellectual property rights.
McVicker, admitting to having in possession apparatus for dishonestly obtaining services, also admitted possessing criminal property, contrary to the Proceeds of Crime Act.
Sentencing and Repercussions
The Belfast Crown Court handed McVicker an eight-month prison sentence, with an additional eight months on license, and a concurrent six-month prison sentence for possession of apparatus for dishonestly obtaining services.
Doherty was sentenced to 175 hours of community service. These sentences are pivotal in underscoring the criminal ramifications of indulging in piracy and the selling of illicit streaming devices, serving as a stern reminder to those considering similar ventures.
Stakeholder Response
Sky welcomed the convictions, extending support to PSNI in curbing access to stolen content and protecting consumers from the underlying risks associated with accessing content through illegal means.
Matt Hibbert, Sky's Director of Anti-Piracy, highlighted the importance of such actions in preserving the integrity of content and safeguarding consumers.
However, the risks to which users of these convicted men's devices were exposed remain unspecified by Sky.
A Final Warning
PSNI, seizing this occasion, issued a renewed warning to users of IPTV services about the legal repercussions of using illegal services, reinforcing the notion that such offenses are far from victimless.
This conviction serves as a testament to the relentless pursuit of law enforcement agencies and content providers against intellectual property theft and a reminder to potential offenders about the severe consequences awaiting them.
YOU'RE BEING TRACKED…
Your online activity is tracked by your Internet Service Provider, app/addon devs, and government through your identifying IP address.
Stream anonymously by using Surfshark VPN.
Surfshark will encrypt your connection to the Internet and mask your IP address and location so you will become anonymous.
Your Current Identifying IP Address: 68.65.122.96
SAVE 82% + GET 2 FREE MONTHS
Surfshark backs their service with a 30-day money back guarantee.
Surfshark allows you to use your account on unlimited Internet-connected devices
Conclusion
The conviction of McVicker and Doherty is a vivid portrayal of the ongoing battle against content piracy.
It is crucial for consumers to remain vigilant and informed about the legalities surrounding IPTV services and streaming devices.
For more information on this story, refer to the report from TorrentFreak.
Legal IPTV Streaming Options
IPTV Wire can't determine whether unverified IPTV services, apps, websites, or add-ons hold the proper licensing.
If and when an IPTV service is deemed illegal, we notify our users immediately and update reports on our website like this one to reflect that information.
In conclusion, the end-user is responsible for all content accessed through free IPTV apps and paid services.
See our detailed guide below for more information on the legality of IPTV and everything you need to know before streaming.
Is IPTV Legal? Read This
For 100% verified and legal IPTV providers, see the options listed below:
fuboTV
fuboTV is one of the most popular paid legal IPTV providers among cord-cutters around the globe, especially sports fanatics.
The best part is fuboTV offers a 7-Day Free Trial for new users! This means you can try the service hassle-free.
This IPTV service offers three different plans with the most popular for $69.99/month for over 115 channels and DVR.
fuboTV Review
fuboTV – Google Play Store
Philo
Philo is a solid option for those who enjoy entertainment and news channels. This service costs $20.00/month for over 60 channels and unlimited DVR.
Just like fuboTV, Philo also offers a 7-Day Free Trial for new users! This is a must-have feature when choosing any IPTV provider.
Philo – Google Play Store
Pluto TV
Pluto TV is another popular free and legal IPTV application used by millions of cord-cutters.
This free IPTV provider offers hundreds of live channels along with thousands of movies and TV shows.
Check out our Pluto TV guide below for more information.
How to Install Pluto TV APK
Pluto TV – Google Play Store
Related

The official URL for this IPTV service is https://yeah-iptv.com/