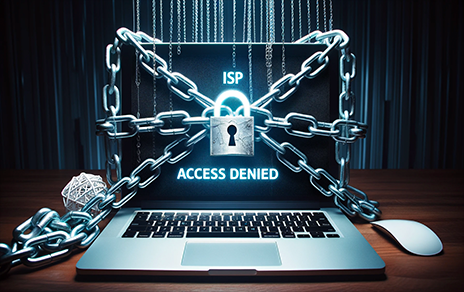 Pirate IPTV Blocking Law Challenged by ISPs – Yeah IPTV
Italy's new pirate IPTV blocking law is now being challenged by Internet Service Providers (ISPs).
In recent months, Italy has become a battleground for ISPs and anti-piracy advocates.
New legislation, championed by the nation's football and broadcasting sectors, has stoked concerns among service providers about its potential impact on their businesses and the broader internet infrastructure.
Background: The New Legislation
In an attempt to curb the rising tide of IPTV services, which were supposedly "killing football", the Italian government took action.
The law passed in mid-July 2023 requires ISPs to block pirate streams within 30 minutes.
Yet, as of October 2023, the 'Piracy Shield' system intended to enforce this is yet to be operational.
A significant concern about this legislation is the absence of any provision for alleged infringers to appeal or defend against these blocks.
Given the intended rapid response time of just 30 minutes, ISPs are compelled to implement these blocks without any due diligence.
AIIP's Warnings and Concerns
The Association of Italian Internet Providers (AIIP), which represents the smaller ISPs, voiced their apprehensions well before the legislation came into force.
Their primary concerns revolve around the potential vulnerabilities this system could introduce. Labeling it as a 'Mega-Firewall', AIIP's president, Giovanni Zorzoni, cautioned that this could become a significant weak point, jeopardizing national infrastructure.
Additionally, the financial implications of this law could be staggering for smaller ISPs.
AIIP has estimated that maintaining compliance with this law, which mandates 24/7 monitoring and action, could cost a single ISP anywhere from 200,000 to 300,000 euros annually.
This, they argue, could spell doom for many smaller providers.
In contrast to claims that IPTV piracy has cost Italy 10,000 jobs, AIIP estimates the new law could force around 2,000 businesses in the ISP sector to shut shop.
The European Commission's Role
Further complicating matters, there's a tangle of EU directives and regulations at play.
The telecoms regulator AGCOM, in a July resolution, mentioned their notification to the European Commission, as mandated by EU Directive 2015/1535/EU.
LEGAL DISCLAIMER: Yeah IPTV does not own or operate any IPTV service or streaming application. We do not host or distribute any applications. We do not verify whether IPTV services or app developers carry the proper licensing. The end-user shall be solely responsible for media accessed through any device, app, addon, or service mentioned on our Website.

For 100% legal IPTV service, Yeah IPTV recommends Vidgo.
This directive seeks to eliminate new technical trade barriers, requiring states to notify the Commission about any planned technical regulations.
However, what transpired after Italy's notifications remains somewhat enigmatic.
The Commission did query Italy about the technical regulations, but after Italy's response, no further communication was recorded, which AGCOM interpreted as an approval.
AIIP's Legal Challenge
Distressed by the potential implications and the lack of clarity, AIIP has initiated a legal challenge against the legislation.
A pivotal point of this challenge is accessing documents related to the European Commission's responses to the new law.
As Fulvio Sarzana, the lawyer representing AIIP, notes, the general public and even concerned parties like AIIP don't have access to these responses.
Yet, understanding the European Commission's stance is crucial to ascertain whether AGCOM's new regulations are in compliance with EU directives.
In a significant development, AIIP managed to score an early victory.
The Lazio Regional Administrative Court has now instructed AGCOM to provide the sought-after documents within a 60-day timeframe.
What Lies Ahead?
The documents, once released, could hold pivotal insights.
YOU'RE BEING TRACKED…
Your online activity is tracked by your Internet Service Provider, app/addon devs, and government through your identifying IP address.
Stream anonymously by using Surfshark VPN.
Surfshark will encrypt your connection to the Internet and mask your IP address and location so you will become anonymous.
Your Current Identifying IP Address: 68.65.122.96
SAVE 82% + GET 2 FREE MONTHS
Surfshark backs their service with a 30-day money back guarantee.
Surfshark allows you to use your account on unlimited Internet-connected devices
If they indicate any contradiction with the Commission's observations or if they suggest violations of EU-established principles, the anti-piracy provisions might be in jeopardy.
Moreover, Sarzana suggests that the current provisions could be in direct conflict with EU-established defense rights and the safe harbor rules stipulated by the Digital Services ACT.
In conclusion, as Italy navigates its piracy woes, it's evident that a balance must be struck.
While content creators deserve protection, it's crucial that solutions don't jeopardize the stability of the internet infrastructure or the viability of small businesses.
The forthcoming revelations from the European Commission's documents could play a decisive role in this unfolding drama.
For more information on this story, refer to the report from TorrentFreak.
Legal IPTV Streaming Options
It's impossible for IPTV Wire to determine whether unverified IPTV services, apps, websites, or add-ons hold the proper licensing.
If and when an IPTV service is deemed illegal, we notify our users immediately and update reports on our website like this one to reflect that information.
In conclusion, the end-user is responsible for all content accessed through free IPTV apps and paid services.
See our detailed guide below for more information on the legality of IPTV and everything you need to know before streaming.
Is IPTV Legal? Read This
For 100% verified and legal IPTV providers, see the options listed below:
fuboTV
fuboTV is one of the most popular paid legal IPTV providers among cord-cutters around the globe, especially sports fanatics.
The best part is fuboTV offers a 7-Day Free Trial for new users! This means you can try the service hassle-free.
This IPTV service offers three different plans with the most popular for $69.99/month for over 115 channels and DVR.
fuboTV Review
fuboTV – Google Play Store
Philo
Philo is a solid option for those who enjoy entertainment and news channels. This service costs $20.00/month for over 60 channels and unlimited DVR.
Just like fuboTV, Philo also offers a 7-Day Free Trial for new users! This is a must-have feature when choosing any IPTV provider.
Philo – Google Play Store
Pluto TV
Pluto TV is another popular free and legal IPTV application used by millions of cord-cutters.
This free IPTV provider offers hundreds of live channels along with thousands of movies and TV shows.
Check out our Pluto TV guide below for more information.
How to Install Pluto TV APK
Pluto TV – Google Play Store
Related

The official URL for this IPTV service is https://yeah-iptv.com/