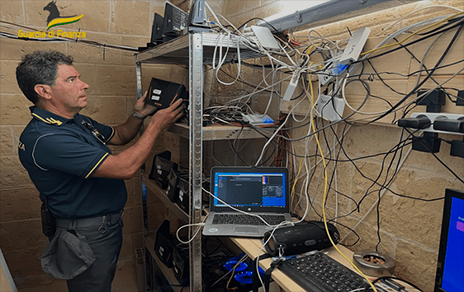 Pirate IPTV Provider Raided by Police & Equipment Seized – Yeah IPTV
A pirate IPTV provider has been raided by police in Italy, and their equipment has been seized.
In a landmark enforcement of Italy's recently enacted anti-piracy law, an individual suspected of operating a pirate IPTV service has been apprehended.
This action signifies the nation's strengthened resolve against digital piracy, especially regarding IPTV services.
The Context: Italy's Strides Against Piracy
This crackdown isn't just another raid. It marks a significant shift in the country's legal landscape against piracy.
Adopted in July, after concerted efforts from the Italian government, the telecoms regulator AGCOM, broadcasters, and football leagues, the new law has two main thrusts:
Blocking Access to Pirate Services: The aim is to reduce the accessibility and appeal of pirated content by preventing users from accessing these illegal services.
Heightened Punishments for Offenders: The law doesn't just target providers but also holds consumers accountable. Those caught selling or subscribing to illegal streams face stricter consequences.
The Crackdown in Canosa di Puglia
In what seems to be the maiden enforcement of this law, Italy's Guardia di Finanza (GdF) shut down an IPTV service in the southern town of Canosa di Puglia. This service allegedly transmitted illegal streams of the SKY platform.
GdF, in their statement, credited both their financiers from the Barletta Group and investigators of the Fiamme Gialle for unearthing this operation.
Notably, this is not the first time such an operation has been linked to this group, with similar accusations arising in 2022.
Evidence at the Scene
The raid led to the discovery of substantial equipment:
Five powerful computers.
33 decoders to capture original broadcasts.
12 video encoders for rebroadcasting.
Additionally, the infrastructure included a myriad of cables and nine power adaptors all connected to a single mains power extension.
An image released by GdF further highlighted an interface which, upon inspection, suggested that some streams originated from satellite broadcasts decoded onsite using card-sharing receivers, specifically CCCAM.
LEGAL DISCLAIMER: Yeah IPTV does not own or operate any IPTV service or streaming application. We do not host or distribute any applications. We do not verify whether IPTV services or app developers carry the proper licensing. The end-user shall be solely responsible for media accessed through any device, app, addon, or service mentioned on our Website.

For 100% legal IPTV service, Yeah IPTV recommends Vidgo.
While the name of the card-sharing provider wasn't clear in the images, the decoders seemed to be the widely accessible and affordable GT Media V8 devices.
Operational at the Time of the Raid
Adding to the gravity of the situation, GdF found the equipment fully functional upon their arrival, indicating real-time transmission of copyrighted content to thousands.
The main operator has been charged with copyright infringements. Under the new law, if convicted, they face amplified penalties.
But perhaps, more alarmingly for many, GdF has hinted that the service's subscribers are not in the clear. With the evidence collected, it's plausible for the police to identify and possibly prosecute the end users.
What This Means for the Casual Viewer
Italy has a rich history of prosecuting those who supply pirated content, but actions against the consumers are less frequent.
This paradigm shift could be startling for many. The general public, who often lack nuanced insights into the legal ramifications of their viewing habits, might find themselves caught unawares.
If the authorities decide to take action against subscribers who used their actual names, contact information, or traceable payment methods, these individuals might soon regret their choices.
Given the legal intricacies and the potential consequences for uninformed users, it's crucial for the public to be educated on the risks associated with pirated content.
YOU'RE BEING TRACKED…
Your online activity is tracked by your Internet Service Provider, app/addon devs, and government through your identifying IP address.
Stream anonymously by using Surfshark VPN.
Surfshark will encrypt your connection to the Internet and mask your IP address and location so you will become anonymous.
Your Current Identifying IP Address: 68.65.122.96
SAVE 82% + GET 2 FREE MONTHS
Surfshark backs their service with a 30-day money back guarantee.
Surfshark allows you to use your account on unlimited Internet-connected devices
Final Thoughts
Italy's recent crackdown marks a turning point in the battle against digital piracy.
As the law's enforcement begins in earnest, both providers and consumers of pirated content must tread with caution. It remains to be seen how the law will be consistently applied, but one thing is certain: the stakes have never been higher.
For more information on this story, refer to the report on TorrentFreak.
Legal IPTV Streaming Options
It's impossible for IPTV Wire to determine whether unverified IPTV services, apps, websites, or add-ons hold the proper licensing.
If and when an IPTV service is deemed illegal, we notify our users immediately and update reports on our website like this one to reflect that information.
In conclusion, the end-user is responsible for all content accessed through free IPTV apps and paid services.
See our detailed guide below for more information on the legality of IPTV and everything you need to know before streaming.
Is IPTV Legal? Read This
For 100% verified and legal IPTV providers, see the options listed below:
fuboTV
fuboTV is one of the most popular paid legal IPTV providers among cord-cutters around the globe, especially sports fanatics.
The best part is fuboTV offers a 7-Day Free Trial for new users! This means you can try the service hassle-free.
This IPTV service offers three different plans with the most popular for $69.99/month for over 115 channels and DVR.
fuboTV Review
fuboTV – Google Play Store
Philo
Philo is a solid option for those who enjoy entertainment and news channels. This service costs $20.00/month for over 60 channels and unlimited DVR.
Just like fuboTV, Philo also offers a 7-Day Free Trial for new users! This is a must-have feature when choosing any IPTV provider.
Philo – Google Play Store
Pluto TV
Pluto TV is another popular free and legal IPTV application used by millions of cord-cutters.
This free IPTV provider offers hundreds of live channels along with thousands of movies and TV shows.
Check out our Pluto TV guide below for more information.
How to Install Pluto TV APK
Pluto TV – Google Play Store
Related

The official URL for this IPTV service is https://yeah-iptv.com/