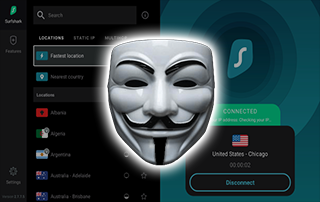 Surfshark VPN Launches Alternative ID – Yeah IPTV
Surfshark VPN has launched a new Alternative ID feature allowing you to create an anonymous identity online.
Because Surfshark VPN is consistently releasing new features like this, this provider remains our top pick as the best VPN for IPTV.
What is Alternative ID?
Alternative ID is a cutting-edge feature by Surfshark VPN that presents a whole new identity and email for your digital usage, expertly masking your true identity in the process.
This exciting product operates on your guidelines for identity creation, resulting in a brand-new profile and email address that shields your real identity effectively.
Do you require a newsletter subscription but wish to preserve your email confidentiality? Are you concerned about your data being vulnerable on multiple websites, especially if a breach occurs?
Look no further; Alternative ID is your ideal resolution to these dilemmas and many more.
But what exactly does Alternative ID offer? Here's a rundown of its capabilities:
It produces an alternate digital identity.
It creates an auxiliary email.
It acts as a proxy, securely forwarding emails to your original email address.
Its functionality is flexible; it operates as long as you need and can be altered or removed at any time.
Benefits of Using an Alternative ID
1. It protects your email address and name, preserving your privacy
Imagine the expected scenario where a website demands registration for access to its services or discounts. With Alternative ID, you can enjoy these services without compromising your personal information.
It protects against one-time-use websites and those with dubious privacy practices.
2. It mitigates the risk of receiving spam emails
Yes, you can significantly reduce spam emails. Use an Alternative ID to subscribe to attractive deals or discounts without worrying about a flood of promotional emails.
LEGAL DISCLAIMER: Yeah IPTV does not own or operate any IPTV service or streaming application. We do not host or distribute any applications. We do not verify whether IPTV services or app developers carry the proper licensing. The end-user shall be solely responsible for media accessed through any device, app, addon, or service mentioned on our Website.

For 100% legal IPTV service, Yeah IPTV recommends Vidgo.
If a generated email address becomes overrun with spam, generate a new one with a single click.
3. It safeguards your information from data brokers
Certain websites trade personal information with data brokers. Registering with such sites might expose your data to a possible breach. But with Alternative ID, your personal data remains secure, keeping it out of the reach of potential malevolent actors.
4. It prevents strangers from accessing your real information
Using Alternative ID, you can prevent unsolicited access to your personal information on public forums or marketplaces, protecting against potential online stalking.
Essentially, Alternative ID alleviates privacy risks, leading to a safer, smoother online experience.
How to Create Alternative ID With Surfshark VPN
Follow the screenshots below to create an Alternative ID with Surfshark VPN.
1. Register for Surfshark VPN if you haven't already – Click Here for Discount
2. Visit the URL – my.surfshark.com/alternative-id and click Create an Alternative ID.
3. Next, create your alternative ID email. Click Continue when finished.
YOU'RE BEING TRACKED…
Your online activity is tracked by your Internet Service Provider, app/addon devs, and government through your identifying IP address.
Stream anonymously by using Surfshark VPN.
Surfshark will encrypt your connection to the Internet and mask your IP address and location so you will become anonymous.
Your Current Identifying IP Address: 68.65.122.96
SAVE 82% + GET 2 FREE MONTHS
Surfshark backs their service with a 30-day money back guarantee.
Surfshark allows you to use your account on unlimited Internet-connected devices
4. Enter the personal email you want this new alternative email to be linked to. Then click Create Alt email.
5. Click Got it when this message appears.
6. Verify your linked email address, enter the verification code, and click Verify email.
7. Now, you can create your Alternative ID persona. Edit your preferences and click Create Alt persona when finished.
8. That's it! You now have an Alternative ID to mask your identity.
It's important to note that Alternative ID isn't meant for registering on reliable sites (like government institutions or banking websites) or any site that requires your real identity. It's also crucial to abide by the Terms of Service of the websites you utilize.
Currently, Alternative ID is in its BETA stage, with a full version in development that promises more thrilling and beneficial features.
For more information on Alternative ID and Surfshark VPN, we suggest viewing their official press release.
Related

The official URL for this IPTV service is https://yeah-iptv.com/